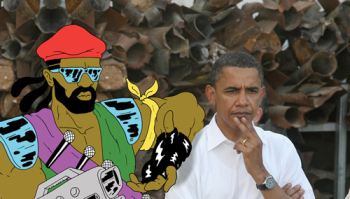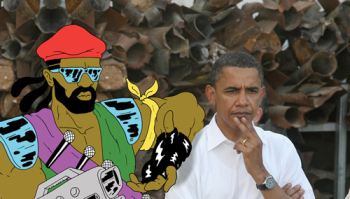 Two albums have been my constant this past week – Mos Def's "gets-better-every time you-play-it" new album The Ecstatic and Major Lazer's Guns Don't Kill People Lazers Do (my review is here). The Major Lazer album is this summer's party album – "guaranteed party jams" as the review says.
Well Switch and Diplo did an Essential mix for Radio 1 last week and predictably it's great. Listen out for Nirvana's Lithium over 'Pon De Floor' and Switch's Bjork 'Naturra' remix. Looooads of great tunes in the two hours though. Tracklisting below.
Major Lazer Essential Mix (164MB Hotfile Link)
Tip: This Core News blog is great for mixes like this. Also, this Irish dubstep mix by Crysis is worth a look kids.

Diplo Mix
Shut Up And Dance 'Ravin I'm Ravin'
Barrington Levy 'Reggae Music Dub'
Barrington Levy 'Send A Moses'
Alton Ellis 'Africa Descendants'
Burning Spear 'Live It Out'
Artibella 'Unknown'
Toyan 'African Thing'
John Holt '100 Weight Of Collie Weed'
Barrington Levy 'Murderer'
John Holt 'Police In Helicopter'
Clint Eastwood & General Saint 'Another One Bites The Dust'
Yello Man 'Mr Chin!'
Unknown 'Sweet Dreams'
Don Carlos 'Ababa John I (Father Majesty)'
Johnny Osbourne 'No Ice Cream Sound'
Admiral Bailey 'Big Belly Man'
Wayne Smith 'Under Me Sleng Teng'
Bruk Up ft. Shaggy 'Sunglasses At Night'
Ricky Blaze 'How Mi Look'
Martyn 'Seventy Four'
Black Eyed Peas 'Boom Boom Pow'
Seductive 'Underground Sound'
Major Lazer 'Jump Up'
Party Quad 'Pull Up'
Digital Manges 'Manges (Sharkslayer Club)'
Major Lazer 'Pon Di Floor Beatacue Mix'
Major Lazer 'Pon Di Floor'
Nirvana 'Lithium'
Wamdue Project 'King Of My Castle'
LBG 'Don't Stop The Music'
Solid Groove 'This Is Sick'
Mavado 'Weh Dem A Do'
Dandy Livingstone 'Rudy, A Message To You'
Unknown 'Unknown'
Unknown 'Unknown'
Major Lazer – "Zumbie" ft. Andy Milonakis from Downtown Music on Vimeo.
Switch Mix
Mr. Oizo & Sebastian 'Arrival'
Major Lazer 'Lazer Theme'
Artist Unknown 'Mash Up De Place'
King Jammys 'Judgement Day'
Bjork 'Nattura' (Switch Remix)
Ace Of Base 'All That She Wants'
Ninjasonik 'Pregnant Accapella '
Major Lazer: 'Baby Riddim' Feat. Prince Zimboo And M.I.A (Switch Remix)
Donny 'Symptomless Coma' (Current Value VIP)
Major Lazer 'Rebellion (Anything Goes) Accapella'
Leftside 'Shi Nuh Wahh'
Terror Fabulous & Nadine Sutherland 'Action'
The Shadow And The Ventures 'Hawaii Five-O' Feat. Andy Milonakis
Major Lazer 'Hold The Line Accapella'
Shawna Feat. Twista & Ludacris 'R.P.M'
Unknown 'Unknown'
Rye Rye 'Shake It To The Ground' (Switch And Santigold Remix)
Major Lazer 'Cash Flow' (Subskrpt Remix)
DJ Malvado 'Puto Mekie'
Major Lazer 'Can't Stop Now Accapella'
Switch & Crookers 'Untitled'
Mapei 'Belly'
White Label 'F***in' House'
Major Lazer 'Pon De Floor' (Drop The Lime Remix)
Unknown 'Unknown'
DJ Sega 'I'm A Flirt'
Major Lazer 'Pon De Floor Beats'
Par-T-One 'I'm So Crazy Accapella'
Amanda Blank 'Something Bigger, Something Better Accapella'