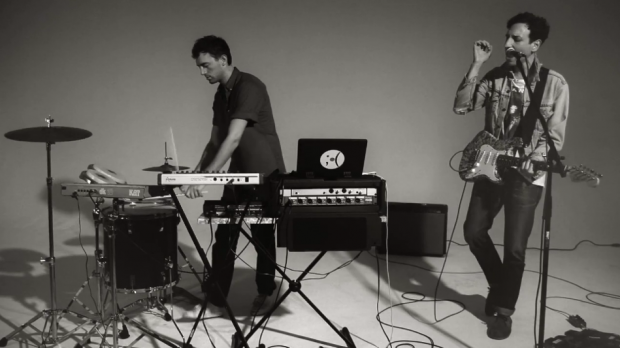 A collection of music videos of interest which arrived in the last few days..
Tanlines – 'Not The Same'
Tanlines' new one for 'Not The Same' has the pair playing every instrument live that they played on the recording of the song that featured on Mixed Emotions. Of course, the only way to do that is to clone yourself:

How To Dress Well – '& It Was U' (Takeaway show)
The standout track from Total Loss gets the
Blogotheque
treatment with Tom Krell walking around Paris singing in the rain.
Shugo Tokumaru – 'Decorate'
My favourite active Japanese folk musician returns with a new album In Focus? on Polyvinyl in January.
Local Natives – 'Breakers'
Looking forward to seeing these guys at Other Voices this weekend.

Haim – 'Don't Save Me'
Hotly-tipped Californian trio play basketball and play a really catchy new tune.

Nosaj Thing – 'Eclipse/Blue'
A sumptuous projection-centred video for the tune which features Blonde Redhead's Kazu Makino on vocals.

Charli XCX – 'Cloud Aura' ft. Brooke Candy
The best track from Charli XCX's patchy recent mixtape. The video has lots of pop culture clips.

Chad Valley – 'Tell All Your Friends'
Not a great video but another excuse to spin the opening track from one of my recent Albums of the week.