With so many releases flying at you, here are recommended vetted listens from Nialler9 for you this week, as collated in the Nialler9 New Releases Spotify playlist, updated weekly.
---
1.
Jungle
For Ever

A lot of people have been waiting a long time for the follow up to Jungle's self-titled 2014 album. A project which saw the band prove themselves to be among the best modern groups to emerge from England. Jungle was the freshest sound of 2014, full of ice-cold synth grooves and the best duo partnership in Tom McFarland and Josh Lloyd-Watson since Daryl Hall and John Oates. So expectations were high headed into For Ever to say the least, especially after a very long four-year wait.
Thankfully, the collective (as they're now labelled) has pulled through with a second album that not only affirms the status their debut awarded them but offers plenty to expand the argument and attract new fans to the project. Somethings haven't changed. The collective still knows how to pen a superb hook, the kind that you find yourself unconsciously humming to yourself as you go about your day. A quick listen to lead singles 'Happy Man' and 'Heavy, California' will confirm that. The infectious nu-funk grooves remain a feature of the group's music too. 'Beat 54 (All Good Now)'s slurred bassline and offbeat percussion offers the sort of instrumental that begs for remixing.
Lots has undeniably changed in Jungle's sound. Three years of touring have obviously matured the group and familiarity with one another has pushed their sound further along the evolutionary chain. 'Casio' is the group's sweetest track to date, a simple set up masterfully executed. It's down-tempo, airy and more self-assured than anything else the group have written to date, an album highlight for sure. 'House In LA' finds the group pushing toward the new school of psych-pop, headed by groups like Tame Impala. Halftime drums and some very woozy synths cast the group's sound in a potentially entirely new light. For Ever is a superb record and another nail in the coffin for the difficult second album myth.
2.
Low
Double Negative

Stalwarts of the alternative indie rock scene founded in the U.S. during the mid-90s, Low have reached a point in their discography that few groups could ever aspire to reach. Double Negative marks the band's 13th studio release. Whereas most influential group's from that era currently releasing music, Alice In Chain's latest effort comes to mind, have gone the way of mediocrity Double Negative is one of the group's strongest releases to date.
Currently signed to Sub-Pop Records, Low undertake the unenviable challenge of creating something human out of a heavily industrial sound palette. 'Dancing and Blood' set the tone from the very beginning, contrasting vocalist Mimi Parker's lead melody against the thud of a distorted kick drum pattern. Double Negative is a superb example of an album packed with dense textures and layered sounds. 'Always Up', a high point in the album, blends Parker and Alan Sparhawk's voices with shimmery synths so well that it becomes difficult to distinguish them.
The album becomes a little grainy and overly abrasive from time to time, as with the very muddy 'Tempest', but none of the tracks feel out of place on the LP. 'Dancing and Fire', the most approachable track on the LP is highlighted by the very desolate 'The Son, The Sun', which precedes it. An album written to be and best consumed as a whole, Double Negative is a fantastically crafted industrial post-rock album.
3.
Aphex Twin
Collapse EP

You wouldn't say the last four years had been particularly prolific for most artists if they'd only managed to drop an EP and an album in that time. However, Aphex Twin is and never was most artists. After a 13 year hiatus from releasing music, Twin dropped Syro in 2014 and now, a mere four years later, has dropped the Collapse EP.
Thankfully, Collapse marks a considerable improvement from the overly abrasive Syro, an LP that did more to contribute to the much-romanticised notion of Aphex Twin being an idiosyncratic artist as opposed to adding anything very solid to his discography. Often directionless and punishing for all bar the most die-hard of fans, Syro stands out more for signalling the return of the Irish producer and composer rather than for what was actually on the LP. Collapse avoids all of these mistakes. That's not to say it's not experimental, because it is massively so. It's just that James has pushed the envelope to the overall benefit of each of the five tracks on the EP. The mind-bending textures and surreal breakbeats are there to enrich the songs they're in and not as means to their own ends.
'MT1 t22r2' is easily the standout track from the project. Filled with Twin's signature breakbeat rhythms and some very detuned synth leads, the track sways and shifts, leading from one path to another. The final release, when the drums take a backseat, is worth every second of the build-up, a masterfully put together experimental dance track. Newcomers to Aphex Twin's work might find easier starting points elsewhere, but any fan of dance music should make listening to Collapse an absolute priority this week.
4.
Chilly Gonzales
Solo Piano III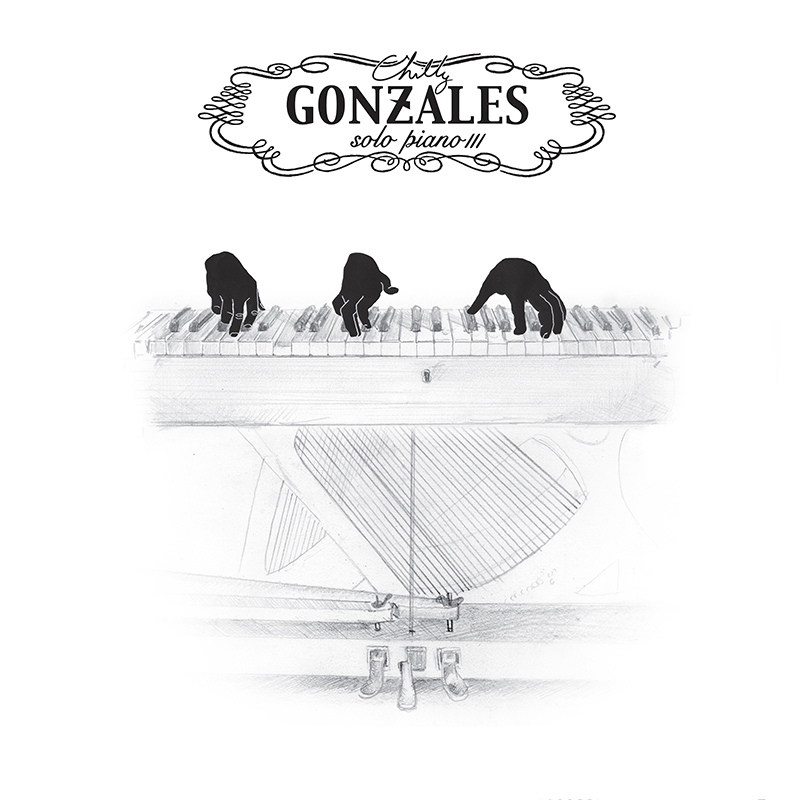 The third and final instalment in Canadian contemporary classical composer Chilly Gonzales' Solo Piano series, Solo Piano III is truly beautiful and soothing collection of music. As the name might suggest, the work consists solely of Gonzales piano compositions. There's no fancy production here bar a touch of reverb now and again. There are no guest features and there's little in the way of marketable singles. Instead, the listener is offered an entirely immersive body of work, one which allows for ambient consumption in one sitting and a capturing of the imagination in another.
The minimalism and simplicity of the production and composition feel pointed. It's as if Solo Piano III is Gonzales' alternative to the heavily layered and often dehumanised approach adopted by most in the contemporary classical world and beyond. As is often the case, less is more. By removing any artifice Gonzales deems unessential, everything but the piano itself, the composer leaves open all the available space for the work itself to be showcased. Two absolute stand out tracks; 'Nimbus' and 'Ellis Eye' have to stand out as the most serenely beautiful released this year. It's impossible to not be moved when hearing the mastery of both Gonzales' composition and performance.
Regardless of whether you take Solo Piano III as a stand-alone work or in the context of contemporary classical's current trends, it's a phenomenal piece of work. Take the time out to allow it to win you over. It'll only take one sitting.