Slane Irish Whiskey is a trailblazing Irish Spirit that has music in its heritage. Like Nialler9, Slane Irish Whiskey is all about new adventures and making a bold choice. Next time you're looking for a spirit that comes recommended from someone who knows their music, try Slane Irish Whiskey.
Please enjoy Slane Irish Whiskey responsibly/visit drinkaware.ie.
© 2022 Slane Irish Whiskey

---
See all best of 2020 coverage.
30.
Tame Impala
The Slow Rush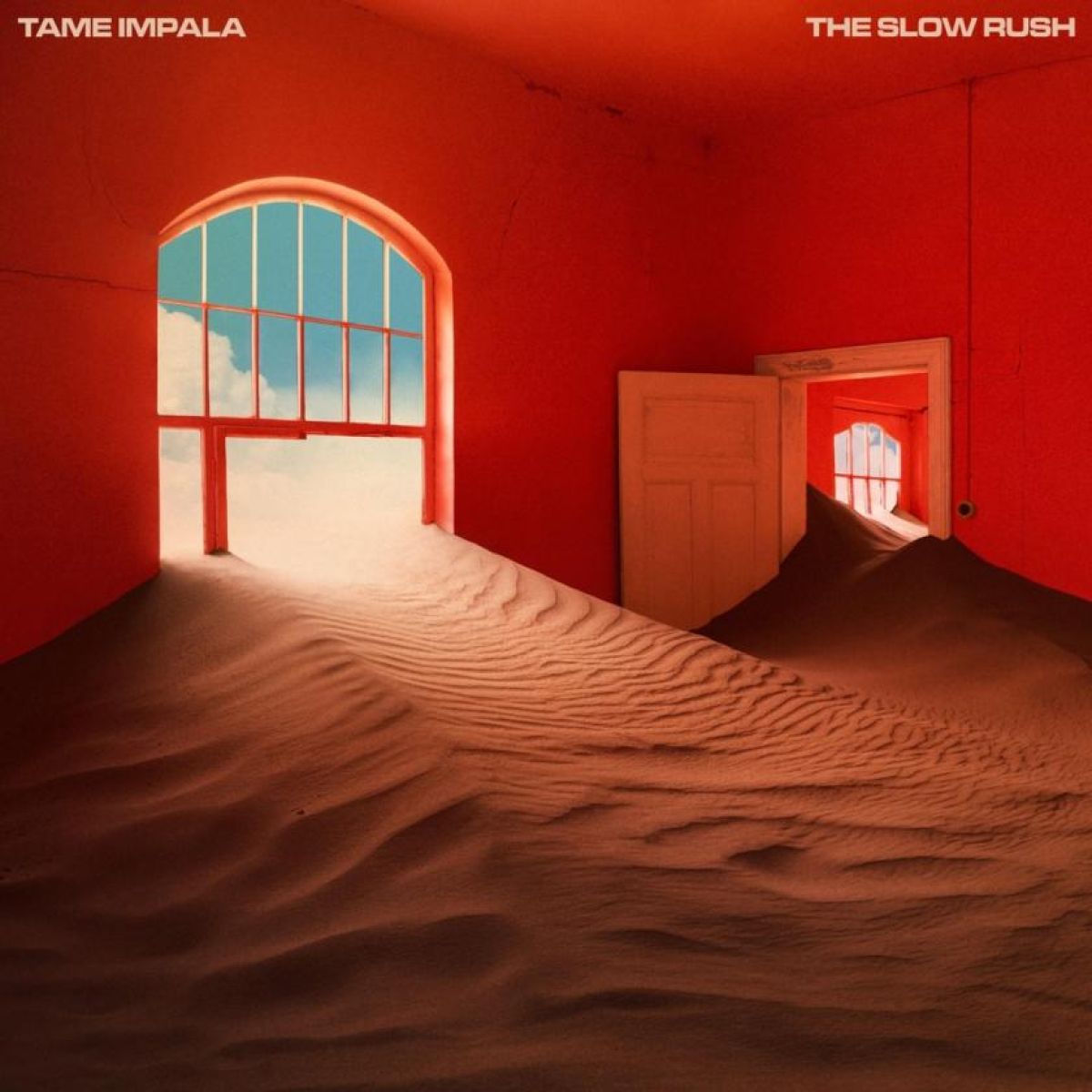 Kevin Parker's return to Tame Impala after the devastatingly good breakthrough record Currents doesn't come without some caveats. Lyrically, there's some Los Angeles life navel-gazing including some clichéd lyrics about a home in Miami and one about the traffic (an idea that SNL spoofed long ago in their sketch The Californians) that colour the universality of the record. At the same time, there's personal lyrics addressing the dichotomy of feeling like a loner as you commit to marriage, his deceased father not seeing his achievements and a theme of the passing of time.
While Parker, native Australian has literally embraced the Hollywood lifestyle, what he hasn't lost in the transition is his studious gift for creating psychedelic phased music that glitters with bejewelled chords and a mellow falsetto. The Slow Rush is the least guitar rock album in the Tame Impala discography and that is consistently a freeing form of expression throughout.
---
29.
Princess Nokia
Everything is Beautiful
Released the same day as Everything Sucks, the fourth album from New York Puerto-Rican rapper is meant to represent "the sensitive, feminine side of the gender fluid artist." Everything is Beautiful was recorded mostly with live instrumentation in contrast to Everything Sucks' brasher and more ruthless collection, Princess Nokia shows her range of styles, doing Bahamadia -style rap on 'Gemini', channeling Chance the rapper on 'Green Eggs and Ham', Tierra Whack on Wash and Sets and jazzy live vocals on 'Blessings'.
---
28.
Westside Gunn
Pray For Paris
Buffalo-native MC Westside Gunn is staying true to the fundamentals of gangster rap throughout his LP Pray For Paris. It's not quite a puritan's album but if you're into hip-hop for grandiose production and catchy hooks you won't get much off of Gunn. Instead, Pray For Paris is jam-packed with golden bars, stories from the street level. Plenty of gorgeous features on this too, including Freddie Gibbs' verse on album highlight '$500 Ounces'.
– Luke Sharkey
---
27.
Yves Tumor
Heaven To A Tortured Mind
Heaven To A Tortured Mind is the Turin-based American recording artist Yves Tumor's second full-length outing under the moniker. Heaven To A Tortured Mind bears noticeable relation to the record that preceded it, however, Tumor detaches themselves further from the obvious brit-pop influences of Safe In The Hands Of Love.

The songcraft is more focused, the tones dirtier and the melodies more firmly placed in the world of art-rock. Highlights on this gem include 'Gospel For A New Century', 'Dream Palette' and 'Kerosene!'.

– Luke Sharkey
---
26.
Moodymann
Taken Away
The prolific Detroit producer Moodymann's Taken Away is a lovingly-created collection of music of black origin – moving house music with R&B, blues, soul, jazz and funk in its DNA. Taken Away features shades of all of it while remaining melancholic, meditative, tender and transportive.
---
25.
Aoife Nessa Frances
Land Of No Junction
The debut album from Aoife Nessa Frances is teeming with beautiful indie psych-folk melodies and acoustic arrangements drawing from late' 60s / '70s folk music. Key to the appeal is Frances' voice, an all-encompassing timbre that recalls Angel Olsen or Cate Le Bon most recently. A rich palette of instrumentation trundles gorgeously around the imaginatively detailed album
---
24.
The Avalanches
We Will Always Love You
Released just last week, the followup to 2016's Wildflower (which itself arrived after a 15 year wait from them seminal debut Since I Left You) is like a celestial transmission from somewhere beyond the stars.

There's references to "the Golden Records", the two 12-inch disks that were launched into space aboard Voyager in 1977, samples galore and a guest list as long as your arm ( The Clash's Mick Jones, Neneh Cherry, Weezer's Rivers Cuomo, Denzel Curry, Kurt Vile, Jane's Addiction's Perry Farrell, Yeah Yeah Yeahs' Karen O, Sampa the Great, Tricky, Cornelius, Kelly Moran, Cola Boyy, Orono, Blood Orange, Leon Bridges, Jamie XX, Pink Siifu, Clypso, Sananda Maitreya and Vashti Bunyan ALL feature).
It nearly didn't happen at all. The album came after member Robbie Chater's struggles to reach sobriety that prolonged the long-lead up to the release of Wildflower and its aftermath (the band's other member Tony Di Blasi performed live with a full band unbeknownst to Chater as he spent time cut off from the outside world in rehab).
If it wasn't so beautifully musically realised, and offer so much solace, We Will Always Love You could all fall apart under its own weight and the guest features but it has a sparkling transcendence informed by its throughline of mythical maximalist evocative music that thematically is informed by grief, the passing of a loved one, and the afterlife.
It's best not to think of the the 72 minute, 25-track running time as a barrier, and just enjoy the blissful cosmic atmosphere with the acceptance that this record displays.
---
23.
Perfume Genius
Set My Heart On Fire Immediately
The fifth album from Mike Hadreas burns with grandiose orchestral music and the artist's most ambitiously-realised work. Influenced by crooners like Elvis and Roy Orbison along with The Sun Still Burns, an avant-garde dance performance he created along with his partner and longtime collaborator Alan Wyffel and Kate Wallich and her Seattle company The YC. Backed by seasoned players, Set My Heart On Fire Immediately flits between chamber pop, rock'n'roll stylistics, baroque and folk music with ease.
Nialler9 Podcast: Perfume Genius reviewed
---
22.
Jessie Ware
What's Your Pleasure?
The fourth album from UK singer Jessie Ware is the one I've been waiting for since the hype of her debut Devotion in 2013. I've always maintained Ware is at her best when paired with beats over ballads. There's plenty of lust and romance to be found here. Ware keeps up her Sade comparisons but does so with refined electro-pop, disco and R&B fink that is closer to the kind of club sounds Robyn is known for. The 12 songs here aren't out and out bangers but productions by James Ford, Kindness, Morgan Geist, Matthew Tavares and Benji B do suit Ware's breathy and breathless vocals down to the dancefloor.
---
21.
Kevin Morby
Sundowner
The Lubbock, Texas singer-songwriter's sixth studio album Sundowner was a real tonic for the experience of being in lockdown for the second time. Arriving in October, its stated intent is to ""put the Middle American twilight — its beauty profound, though not always immediate — into sound."
Sundowner does feel like the soundtrack to a late-night drive on distant dusty roads, with the passenger sharing recollections of his life about Los Angeles themed hotel in rural Kansas, a beautiful campfire singer, mermaids and deer carcasses, delivered with a Dylan slant and elegaic country indie guitar music.
Nialler9 Podcast: Kevin Morby's depiction of a Middle American twilight
---