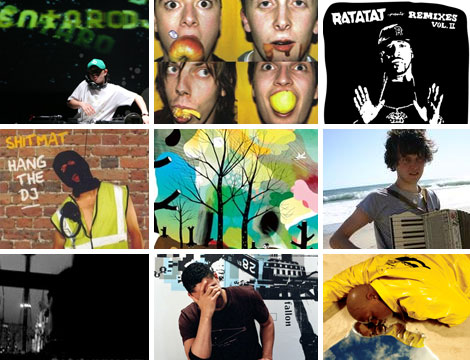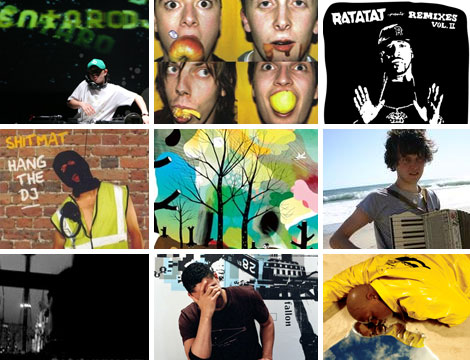 Here we have 9 songs which have either creeped into my inbox or which I've been meaning to up for a while.
1. Japanese DMC World Champion
DJ Kentaro has been overshadowed by other DJs and turntablists but with his latest album Enter out on Ninja Tune this week, should change that. Featuring appearances from Spank Rock, Pharcyde and Hifana, Japanese Kentaro shows that being a turntablist doesn't have to be a nerdy investment. This is the sound of a guy who has got the skills but knows how to make exciting hip hop & breaks party album. Case in point, the drum and bass "Trust" sounds right up the Scratch Perverts alley. For more Kentaro material, I recommend DJ Kentaro On The Wheels Of Solid Steel compilation.
[audio:https://nialler9.com/mp3/DJ_Kentaro_-_trust.mp3]
2. Electro Scots
Signed to Mogwai's Rock Action label (I bet that starts every description), I've seen Errors sound described as avant-electro, post-rock, indie, banana-chip core (OK that last one was me) but it's a little bit of all these things. This song is the B-Side to their Salut France! 7″. Glasgow represented. Quelle title!
[audio:https://nialler9.com/mp3/Errors-_-Maeve_Binchy.mp3]
3. NY Hip-Hop Remixers
Ratatat have another volume of hip hop remixes for our pleasure coming featuring remixes of Ludacris, B.I.G, Jay-Z, Memphis Bleek, Slim Thug, Kanye and loads of other rappers I'll probably never listen to ever again. Take some standard hip hop tracks and put some synths and guitars under them is the recipe here and it works deliciously at times. Didn't Ratatat support CSS last week? Howzat?
Z-Ro, Devin the Dude & Juvenile -The Mule (Ratatat Remix)
[audio:https://nialler9.com/mp3/Z-Ro_Devin_the Dude_& _Juvenile_-_The Mule_(Ratatat Remix).mp3]

4. English Mashup Mentalist
There are times when real music simply won't fit the mood. For these times, thankfully we have Henry Collins aka Shitmat. Specialising in splicing pop tunes into a 180bpm beat grinder, his latest effort Hang the DJ is more of the same exhilarating madness. "Radio Shitmat" is a 9 minute peek into a hellish radio station Room 101. Taking in Queen, an R&B Bohemian Rhapsody, The Ghostbusters Theme, random speed techno breaks, cut-up metal riffs, porn samples, Shabba Ranks, loads of helium induced vocals and Billy Joel. Play loud and inappropriately.
[audio:https://nialler9.com/mp3/shitmat _-_radio_shitmat.mp3]
5. Lowlands Post-Rockers
Efterklang are from Copenhagen, Denmark. Rasmus from Efterklang is a really nice chap. He is responsible for sharing Kama Aina and Cacoy with us (Sadly, founding member of Cacoy, DJ Klock passed away in the past few weeks. He will be missed). This track from Efterklang's new EP Under Giant Trees is a mournful missive to a dying land. I'd imagine. I'm buying a copy of the 12″ for the amazing artwork by Nan Na Hvass. There is also a special eBay auction where you can get limited edition vinyl with all proceeds going to rainforest preservation.
Efterklang – Towards the Bare Hill
[audio:https://nialler9.com/mp3/efterklang_-_towards_the_bare_hill.mp3]
6. Eastern European Progeny
In celebration of Beirut returning to Dublin on June 22nd in Tripod, "Elephant Gun" is the lead track from the recent Lon Gisland EP. Zach Condon's band were just at the beginning of their surge in popularity here when they last played in November so I'm looking forward to seeing how they are received when they return.
[audio:https://nialler9.com/mp3/Beirut_-_Elephant_Gun.mp3]
7. Irish Electronic Junior Doctor?
Some nice 'Irish Electronica' from Chris Coffey under the name The Holy Roman Army. By day (night?), Chris is a Junior Doctor for the HSE. By night (day?) he escapes by playing with laptops and samplers. The results are pretty impressive. Live dates coming soon. More free tunes.
The Holy Roman Army – Caught in the Wire
[audio:https://nialler9.com/mp3/The Holy_Roman_Army_-_Caught_In_The_Wire.mp3]
8. Chicago Underground Rapper
Everytime I listen to this, the chorus reminds me of a song I can't put my finger on. Can anybody help? It sounds EXACTLY the same as another tune. "Island Bozo" is from Serengeti's latest album "Noticeably Negro" which features MF Grimm.
[audio:https://nialler9.com/mp3/Serengeti_-_Island Bozos.mp3]
9. Frat Boy B-More Rappers
Plastic Little make party hip hop from the same collective of artists that include Hollertronix, Spank Rock, Amanda Blank and Diplo (the latter three which feature on their debut She's Mature). "Now I Holler" takes a sample from PJ Harvey's "Down by the River" and turns it into a high-calibre hip hop jam. Unfortunately, the raps are crude enough to be dismissed as pointless puerility. The album has some great hip hop instrumentals utilising The Cure ("Get Close"), an admirable Wu-Tang rip-off ("5th Chamber"), Smiths references ("Holla Plastique" and the album cover parodies the cover of This Charming Man) and as an added plus, Ghostface appears on a track. Just lay off the satire a bit lads.
Plastic Little – Now I Holler (With MC Spank Rock)
[audio:https://nialler9.com/mp3/Plastic_Little_-_Now_I_Holler_(With_Spank_Rock).mp3]