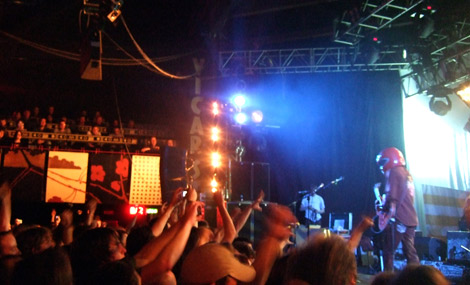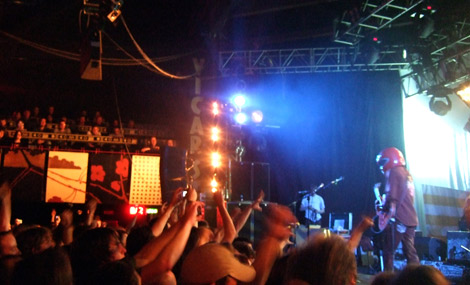 "Tonight's show is dedicated to Elvis Presley.." chuckles Gruff, picking up his guitar ready to embark on a two hour excursion into the Furries back catalogue. The strains of a psychedelic acappella version of "Baby ate my eightball" segues into the band launching into half a dozen or so short but sweet numbers including "Do or Die" (Guerilla), "Golden Retriever" (Phantom Power), "Run Away" (Hey! Venus) and "Northern Lites" (Guerilla). Despite their upbeat efforts, something is lacking in the room: a combination of rusty band, sound missing a punch and a packed crowd.
Having just released Hey! Venus, their eighth studio album and their most comfortable sounding to date and they look exactly that, comfortable packing out a venue as large as Vicar Street. Guitarist, Huw Bunford or Bunf as he is affectionately known is sporting a ginormous Jesus beard and is expressing his disbelief at how large his beer bottle is – "It makes my amp look smaller!" while Gruff holds up an insignia with "THE VERY BEST OF NEIL DIAMOND" printed on it.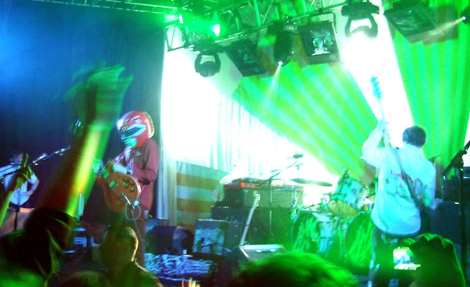 That's the Super Furries – chancers with big hearts and they prove it. The gig begins to establish itself when the band played their downer half-hour part of the set as Gruff described it. The Furries excel at rich, heart-felt and powerful slow songs and the acoustic guitars were brought out for personal old favourite "Down a Different River", "Atomic Lust", a song from Welsh language album Mwng – "Ymaelodi A'r Ymylon", new single "Show your Hand" and some new songs including the wonderful "The Gift that keeps Giving". The atmosphere changed during these songs and all of a sudden, the crowd present were all singing along and enjoying themselves much more.
Playing for two hours means an interval is called after fantastic versions of "Juxtaposed with U" and "Receptacle for the Respectable" complete with Gruff chewing on carrots. But there's no messing, as ten minutes later they are playing "Slow Life" with Power Rangers helmet and onto "Hello Sunshine". Grown men begin to act like pre-pubescent adolescents, delirious with their mates and rightly so when the shouts of "SFA OK" are greeted with 2 singles from 1996's Fuzzy Logic – "God! Show me Magic" and "If You Don't Want Me to Destroy You".
It's a testament to the quality of the songs and the depth of their back catalogue that they could do something like the Electric Picnic Bingo set last year. Over a hundred songs, whichever number gets pulled out of the draw, then that's the song they play. Nevermind, the impressive feat of remembering each and every one of these songs. Tonight, this sentiment was represented by B-side "Mrs Spector" which is lesser known than some of the others so therefore felt a bit flat in comparison to the rest of the set.
As we hit the home stretch, "Rings around the World" and usual set closer "The Man don't give a Fuck" are received rapturously. Notable, however are the shortened versions of "Slow Life" and "The Man don't give a Fuck" which tonight are devoid of Cian's usual electronic techno freakouts which is a pity but the real closer tonight is "Keep the Cosmic Trigger Happy" – a bouncy 60's ditty that puts smiles on faces. Gruff and Bunf hold up boards with signs reading "KEEP IT REAL" (last line of the song) and the set is bookended by Gruff placing a sign marked "THE END" on the amps.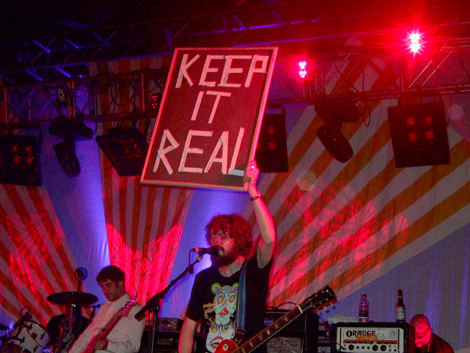 Despite this being the sixth or seventh time to see the band live, they have never let me down in performance or attitude. They have so many crowd favourites that people sing the quiet guitar melodies at them. I first saw them in the Olympia years ago. On a school night, we took a mini-bus to Dublin. The gig was exhilarating. Last night, I saw myself in the younger faction of the crowd: up the front, pogoing all night, loving every minute. I overheard one kid, who can't have been more than 17, saying he would wear his new SFA t-shirt for 4 months straight. At the same time, further back in the middle, three guys who were clearly a bit crackers were giving it socks with such aplomb that even though one guy was stroking his beard and conversing with the band in his head, they displayed the same enthusiasm for the music as the 17 year old.
God, Jah bless the Super Furry Animals.
MP3
Super Furry Animals – The Gift that keeps giving
[audio:https://nialler9.com/mp3/Super_Furry_Animals_-_The_Gift_That_Keeps_Giving.mp3]