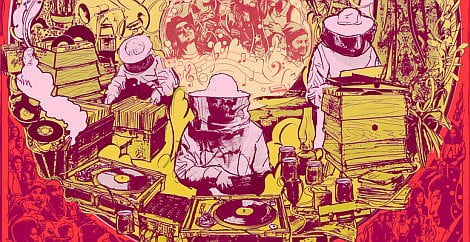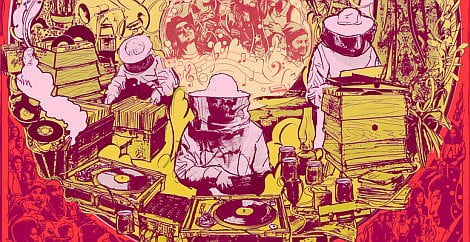 Barry is back with more info and mp3s from the Bees camp.
I only came across the latest installment from The Bees by accident and I'm very surprised I missed it. Their latest release, The Sound Selection is not a studio album but an eclectic 18 track mix album which is pretty much a journey through their influences with two crackers of their own thrown in for good measure. The term eclectic is often overused but in this case it is almost an understatement with gospel, funk, soul, blues, hip-hop, reggae and folk evident here. One of the great things about this mix is that apart from the wide variety of genres, I hadn't heard many of the songs before and has opened my ears to loads of new artists and songs, which I guess is the point of such a record, right?
The result is a record with a fantastic flow and continuity with numerous highlights that hit you thick and fast. Some of my personal favourites are selections from Redbone, a Native American, LA based funk group from the late 60's, De La Soul's old-skool hip-hop in the form of 'Ego Trippin' Part 2', and Dillinger bringing some reggae into the mix in the form of 'Headquarters'. Clarence Reid, the under-rated funk pioneer too is a must listen. For Bees fans it is a chance to listen the vast influences which make their sound both brilliant and hard to define. There are two other treats with an excellent special cut of 'Left Foot Step Down' and a new song 'Papa Echo' which gives us an exciting insight into what we can expect in the future although the band claim it's just an in-between album song and may or not be a taster of the direction they are heading. One way or another the swirling psychedelic soul sound fits in with their own sound and this mix's style.
If there is one bad thing about this it is that we simply don't get the sunshine to enjoy this joy and soul-filled album, but I guess it could provide us all with some much needed escapism to the sun. All that's left to do is to thank Nialler for the post and enjoy the tunes!
Redbone – Bad News Ain't No news At All

Track Listing
1) The Staple Singers – Step Aside  
2) Quasimoto – Phony Game  
3) Redbone – Bad News Ain't No News At All  
4) De La Soul – Ego Trippin' (Part Two)  
5) Muddy Waters – I Just Wanna To Make Love To You  
6) Dilinger – Headquarters  
7) Matumbi – Chain Gang  
8 ) The Bees – Left Foot Stepdown  
9) Elis – Roda  
10) Dungen – Jamma Plagor  
11) Fatty Flx – Original Ghosts  
12) Can – I'm So Green  
13) Silver Apples – I Have Known Love  
14) The Bees – Papa Echo  
15) Cyril Labonne – Aloud Limonade  
16) Donovan – There Is A Mountain  
17) Little Ann – Going Down A One Way Street  
18) Clarence Reid – Nobody But You Babe