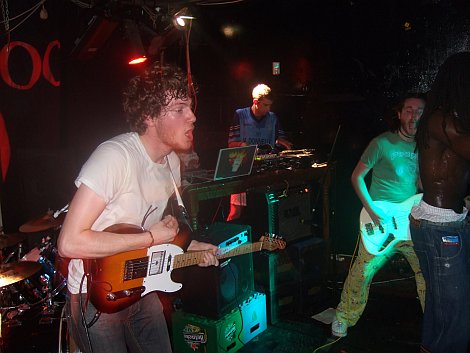 Savage night on Friday with a capacity Voodoo crowd and a great buzz about the place. All the acts went down really well:SEBP, Adebisi Shank, LPX, Prince Kong and Nouveau Noise were all great and a huge shoutout to Robbie Coffey on the "tables of steel" (in-joke) who was the DJ for the night and played a great mix of drum and bass, hip hop and mashup tunes towards the end that had me spinning. I'll have to get Robbie to do a mix for nialler9 soon. I'll have some Polaroids of the night later.
On another note, I was reading the excellent Observer Music Magazine today which has a cover feature on Kanye West along with features on Christian Rock, Scorsese's Rolling Stones film, Ibiza nostalgia and Devendra Banhart (whose new one I'd like to hear). I've learned Avril Lavigne says "like" a lot and is a bit of a ditz (no surprise there, she's hardly Joni Mitchell) and Kanye is a hypocritical arrogant so and so. Most interestingly though, is the album reviews section where the critics went wild giving EIGHT albums out of the 21 in total a full FIVE STARS. Now, maybe the little bit of sunshine we had got to them all this week or maybe they all deserved it but it seems a little star happy. Among the five-star reviews were ones I agree with: The new Go! Team album Proof of Youth is essentially Thunder Lightning Strike part 2 but it's so damn catchy and beguiling it deserves the full praise. Manu Chao's La Radiolina sounds like it is as good as all his others and could be his breakthrough hence the five stars but something was amiss when I read the review of the new Liars album (see great new video) which although is full of praise is hardly glowing – ending with the line "Liars may have moved more towards the mainstream but they're still a long, long way from easy listening".
Five stars each for Hard-Fi and KT Tunstall and I suspected there was a printing error or the designer was taking the piss. For the record the other 5 star reviews were Richard Hawley, Gwyneth Herbert and Mexican Institute of Sound. Other reviews are a bit more normalized with Super Furries, Rilo Kiley, Tunng and Animal Collective receiving three stars and Caribou and Kate Nash getting four. Whether Hard-Fi should get full props for writing an album that's guaranteed to sell millions is up for debate and I certainly wouldn't agree with that. Like it or not, the star ratings system is a good indication of a review but some of the above just don't match the ratings. Surely five stars should be reserved for definitive albums. Great magazine otherwise.