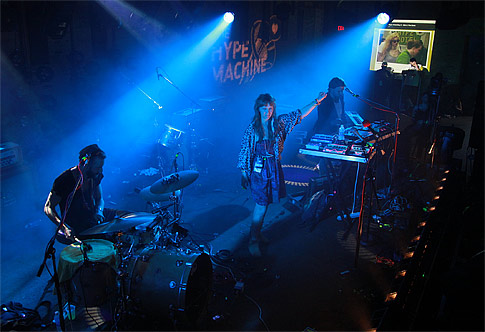 SXSW is like a suspension of normal reality when it comes to gigs, events and festivals. That goes some way to explaining how I ended up curating the lineup for a St. Patrick's Day gig at The Hype Machine's Hype Hotel. We had six great live sets from six of the best new bands around, free drink, free tacos, massages and photobooths. The whole thing was captured and broadcast by Livestream and the warehouse venue had lighting that came from Cirque De Soleil. It was insane.
Thanks to all involved for making it happen and for those who turned up – the venue was near capacity for much of the day so I was delighted. In case you missed it all, you can watch five of the six sets from the day below (Tennis' approval is pending). More non Hype hotel SXSW posts to follow and look out for a piece in this week's Indo on Friday about how the party came about.
All photos from the day and the other blog-curated events photos and live sets are accessible here. My own photos are below too.
Clock Opera
Body Language
Beat Connection
Mmoths
[nggallery id=32]