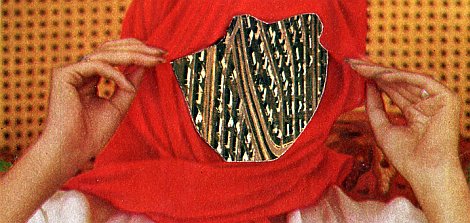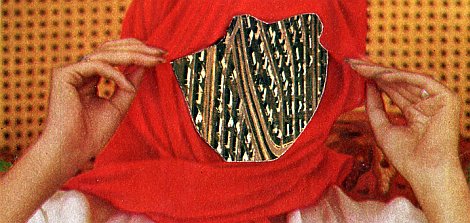 This is an album that I've been playing over and over throughout the last month but never got around to writing about. Partly, because of the equivocally unusual sound they make but also because All Hours Cymbals is an album that requires many repeated listens to grasp its core.
Following on from their Brooklyn neighboorhood peers such as Grizzly Bear, this is noise divested of the foundations of most indie music. Yet, it fits right into the ethos of assimilating outside sources to produce something which extends the canon of what is considered indie. Ingesting African rhythms (like current hot tips for 2008 and fellow New Yorkers Vampire Weekend) and weaving them alongside radiant melodies and clean guitar lines, it sounds full and imagistic.
Key to the uniqueness of the record is the voice of Chris Keating. Simultaneously strident and brittle, it's somewhere between Cedric Bixler-Zavala (The Mars Volta) and David Byrne. Byrne fits the bill as reference for Yeasayer's feral ethnic inspirations throughout the record, as the band trod the new world path Byrne blazed in recent times.

Backing up Keating are his disciples versed in chant, harmony and crescendo, making the songs swell with otherwordly quality. Opener "Sunrise" kicks in with a-capella woos and tribal drums. We're introduced to the album's main theme – the coming of cataclysmic change, an uncertain modern world where "fish began to fly". The song's heart belong to an Amazonian rainforest rather than a Brooklyn studio. "Waiting for the Summer" knocks you further into the foliage with a distinctly African guitar line and incantations while the sense of foreboding is further established – "Won't someone help me please?".
You begin to understand that Yeasayer don't settle easily. Songs can start one place but quickly disassemble and morph into something new. Third track "2080" pushes the irregular rhythms past the point of indie as Keating ruminates "I can't sleep when I think about the times we're living in /I can't sleep when I think about the future I was born into" yet offers a personal remedy – "It's a New Year, / I'm glad to be here / It's the first spring, /So let's sing." but not without offering another warning – "Never look ahead." In the closing crescendo you can hear children repeat his musings, almost as if this is an aural reference to children being the future. Puke onto your keyboard now. Regardless, it sounds heavenly.
Elsewhere, samplers, synths and accordions ("Germs") and hypnotising vocals ("Ah, Weir", "No Need to Worry") are utilised. The album's epilogue "Red Cave" is a joyful denoument – each member sounding cleansed, refuged and out of the woods of ill-thought, singing "I'm so pleased to have the good times with my family / and the friends I love in my short life / I have met so many people I deeply care for".
The album is so full of mystic, it could all so easily collapse into neo-spiritual bullshit (Kula Shaker anyone?) but the arrangements glitter with nacreous percussion and luminescent guitar lines. It helps that for much of the album, Keatings vocals are blurred but still burn with beautiful intent.
MP3
[audio:https://nialler9.com/mp3/Yeasayer_-_Sunrise.mp3]
[audio:https://nialler9.com/mp3/Yeasayer_-_2080.mp3]
Yeasayer: Myspace | Official | Daytrotter Session
[ Buy All Hour Cymbals: iTunes | Amazon | eMusic ]