Part 1 | Part 2 | Part 3 | Part 4
Continuing the four part series this week, in no particular order, in which various artists, media and music fans I trust answer the question: "What are your five best new musical discoveries of the year?" Their answers were then rummaged through by me and I picked a cross-section list of 40 of the most interesting, diverse new artists from their choices.
Thanks to Muiris Dunworth for creating a Spotify playlist of 34 of the artists. A Deezer version is here.

From: Chicago.
Chosen by: Alan Reilly (Bitzl R).
Heightened earthly accents, expressive range, subtle textures and wonky horn tones, make for one character-packed vibrato – with a vocal so rare it's almost cartoonish, Angel Olsen needs little else when expressing her blues. She sings folk with a fragile ferocity and the hardness of a broken woman. Her debut Half Way Home is a record of psychedelic lyricism rooted in everyday language, '60s pop swagger and country music expressions courting life's tribulations: loneliness, deceit, and longing. She's a member of Bonnie "Prince" Billy's touring band so it's not surprising that she sings heavy songs about the finality of death, questions of existence and aching lust. It's also not surprising she does so with such acute humour and a hand-on-hip strut. (Alan Reilly)
---

From: Sydney, Australia.
Chosen by: Chris Budd, Indie Music Filter.
Oliver Tank is an ambient electronic artist whose Dreams EP totally took over my iTunes library for a large period of time this year. Fitting well with James Blake or Early Broken Social Scene forebearers K.C. Accidental, his tunes belong soundtracking those quieter times spent inside on cold, dreary days. (Chris Budd)
---

From: London, England.
Chosen by: Sorcha Richardson
Archy Marshall, the British 18-year-old released some songs as Zoo Kid for a while before his self-titled debut EP as King Krule, released on True Panther at the end of last year. He sings with a deep voice that sounds much more weathered than his years over some loose, clean electric guitar. In September of this year he released 'Rock Bottom' (which borrows a lyric from The Streets' 'Empty Cans') and 'Octopus' on Rinse Records. Still yet to release a full length album, I'm looking forward to seeing what he does in 2013. (Sorcha Richardson)
---

From: Dublin, Ireland
Chosen by: Ian Maleney.
The acoustic guitar has something of a bad rep in this country, with years of over-earnest abuse meaning it is sitting in the shade of contemporary Irish music. Cian Nugent may well be its saviour. The path he has taken in the last few years is one of long hours woodshedding, learning traditions and attempting to find his personal voice amongst the ghosts of the past. Beginning with the American primitive school of playing and paying due homage to John Fahey, Jock Rose and the rest of them, Nugent is developing a style that is ever more his own, whether solo or with his cosmic jam band, the Cosmos. Ambitious and expertly-realised, his first album Doubles was a delight and everything he's done since has shown that he is continuing to explore new angles, techniques and emotions in his music. He's even starting to sing! (Ian Maleney)
---

From: Cork, Ireland.
Chosen by: Derek Byrne (Phantom FM), Dan Hegarty (2FM), Matt Agnew (Melted Music), SertOne.
Young Wonder are one of those acts that I loved the minute that I heard them. It's not that they have invented a new sound, but they way they have gone about making their tunes is understated and wonderful. It's like someone built them out of bands that I love like Fever Ray, Cocteau Twins, Portishead, and Lamb, then added some components that I would never have thought of. Young Wonder are a joy. (Dan Hegarty)
Two talented people that have created the synergy of 1 + 1 = 3. Rach's voice can be delicate or powerful, and Ian can produce any genre he turns his hand to. A great live show and their videos give them that extra edge in appealing to a worldwide audience. (SertOne)
---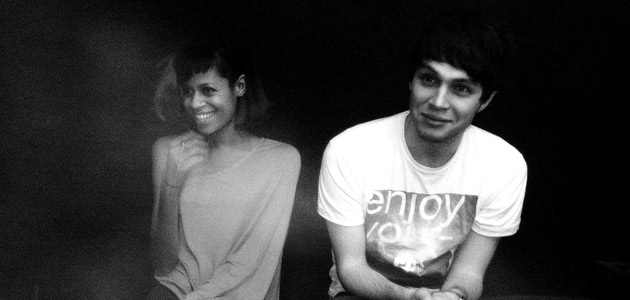 From: New York.
Chosen by: James Vincent McMorrow, Hannah Rad
It's just well written, meticulously produced, beautifully executed pop music, it's not trying to be overly clever at the expense of the hook and the song. It reminds me of a lot of things i love, lot of 90's R&B, but it doesn't straight sound like it. It's drawing inspiration rather than just lifting ideas, I think that's what drew me in, it's genuinely fresh. They feel destined for real big things next year. I know they've signed with a major label, it'll be interesting to see whether they keep the production amongst themselves like they have so far, or go and sit in a room with some big producers and really commit to that world. Either way I think it would work if it's done right. (James Vincent McMorrow)
---

From: Brooklyn, New York.
Chosen by: Veronica Murtagh (Cream Team)
The first track I heard from multi-instrumentalist Ahmed Gallab was 'Jeeper Creeper' and I remember closing my eyes and visualizing myself riding a horse across the desert towards nothing but the sunset. Drawing from his Sudanese roots, Gallab's music meshes syncopated funk rhythms with relaxed guitar melodies. It's music that you fall into, where a minute feels like happy eternity. (Veronica Murtagh)
---

From: Belfast, Northern Ireland.
Chosen by: Matt Agnew (Melted Music).
Beat producer Connor Dougan is one to watch out for. A past pupil of the Red Bull Music Academy, Connor set up his club night turned record label Reset along with Kab Driver. In Binary Shrines is the first release from the label and is a nice way to kick things off. Nine tracks blended with a mix of hip hop, funk, jazz and electronic music. (Matt Agnew)
---

From: Australia / New York.
Chosen by: Sorcha Richardson
Brooklyn based Australian folk-trio High Highs have created a lot of excitement since releasing their self-titled 4-track EP last October. NME listed them in their top 50 new bands of 2011 and by the end of the year they were signed to Elton John's label Rocket Record Company. Their music is a little bit folk, a little bit pop, a little bit ambient. In 2012 they released the single 'Once Around The House' – a slow burning song full of echoing vocals – as the teaser from their 2013 debut album. (Sorcha Richardson)
---

From: London, England.
Chosen by: Dev Sherlock, (The Hype Machine)
Weird Dreams are almost entirely out of step with the current musical landscape–which is what makes their debut one of the year's more enjoyable and pleasantly-surprising. Transported back in time, they could easily be signed to Flying Nun alongside Straightjacket Fits and The Chills, or to Creation Records. Instead, they delivered one of 2012's best singles in the form of '666.66' which, along with album tracks like '"Michael', shows them at their best: Elements of '80s post-punk (think the first Cure or Bunnymen albums, reverb-y guitars, athletic bass, a hint of goth) sweetened by an affinity for '60s jangle-pop and Beach Boy choruses. (Dev Sherlock)
---
Part 1 | Part 2 | Part 3 | Part 4
Related