After two years of missing the festival, I finally made it down to one day at Body & Soul in Co. Westmeath over the weekend. Luck was on my side as I could only make Sunday which turned out to be the sunny day. Weather was something I noticed Body & Soul had going for it in its two years so far with previous weekends seeing scorchers so it seems luck and good calendar timing is also something the festival has going for it.

Initially an area at Electric Picnic where it really is the heart and soul of the Stradbally site, Body & Soul is now a fully-fledged festival on its own in its third year. It's a shrewd move that has worked well and it's easy to see why. A laid back woodland, castle vibe that was family-friendly (seriously, kids everywhere) and intimate enough to run into lots of people, which let's face it, can be a serious factor in a festival experience. There's so much on offer from the Wonderlust stage featuring inspirational talks, to the woods to the walled bar, the garden near Radioshack, dining experiences, masquerade balls, hot tubs and many "nooks and crannies".
After all that pottering about, the music could feel a bit secondary at times but the musical lineup was a highly-curated mix of the best of the fringes.
Dance music was ably represented by Barca's dance maestro John Talabot, rising youngster Jacques Greene (both sadly did DJ sets over the live sets they performed at Sonar a week earlier), the ultra fast-paced colourful show from South Africa's Shangaan Electro, Numbers' Redhino and a, by all-accounts, killer Gold Panda set.
Elsewhere, reggae, trad and experimental indie mixed with the likes of Hollie Cook, Martin Hayes, Django Django (another Saturday highlight for many I spoke to), Come On Live Long while headliners came from space rocker stalwarts Spiritualized, local heroes Villagers, cheeky Copenhagen live act Whomadewho and R&B legends Lee Fields & The Expressions. There's no indie landfill filling up stages here.
But I could only speak to what I saw myself on Sunday. St. Vincent's early evening set was a winner, Annie Clark threw herself into the crowd during 'Crocodile' and shredded her guitar in her own idiosyncratic way. It's just a pity that impressive stage show witnessed last time around didn't get an airing but we'll gladly take the sunshine for once.
Donal Dineen and David Kitt/Diamond Dagger as New Jackson did a fine job keeping bodies moving at the Upstage but it was the double header of Little Dragon and M83 that impressed me most.
Having seen Little Dragon a couple of times live, most recently last year in Crawdaddy, it's clear to see this Gothenburg band thrive at festivals. Their set was perfectly pitched at dancing feet with a lot of tracks from their excellent Ritual Union album with personal favourites 'Little Man', 'Shuffle A Dream', 'Ritual Union' and previous LP Machine Dream's 'Looking Glass'.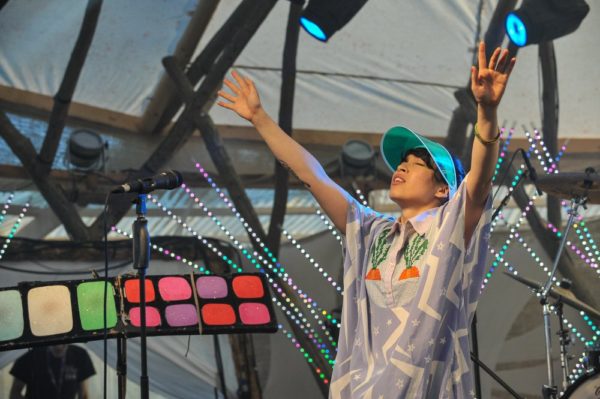 M83 meanwhile have honed their live show significantly in the few years since they played Dublin. Last year's Hurry Up, We're Dreaming struggles over its epic 90-minute running time but at a festival? A set culled from the band's sky-reaching discography was perfectly chosen. Songs many would consider Anthony Gonzales' finest moments – 'Don't Save Us From the Flames', 'Intro', 'Skin Of The Night', 'We Own The Sky' and the extended workout of 'Coleurs' translated at the Body & Soul main stage's hollow basin. It's 'Midnight City' though, that will last longer in memories. It's already dear to my heart as one of my favourite songs of 2011 and it was clearly dear many others too. When the song's weird vocal siren came in and when that sax solo kicked in, a smile across the crowd could be seen and goosebumps were almost visible. Hard to top. What festivals are made for really. Roll on next year, with sunshine guaranteed once again?