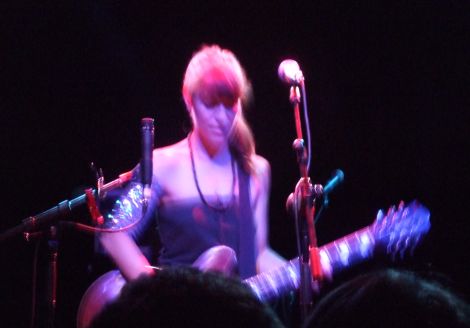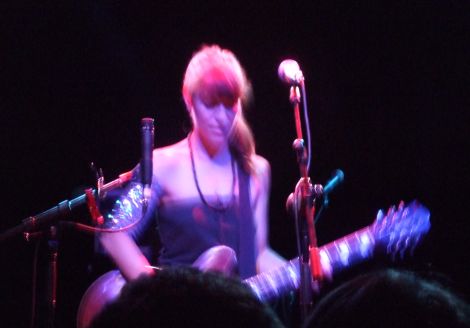 Back in May, I said (along with plenty of others) that Feist's new album The Reminder would blow her up in a big way. And it has: Polaris Music Prize nominee, iPod ads, critical praise, TV appearances and more. Key to the success of the album (and Let it Die before it) are the quality of the songs and Feist's beguiling voice.
Last night, the Year of Feist was celebrated as Leslie played her first gig in Ireland. Resplendent with a sparkling glittering armband, a beautifully delicate but powerful voice and the backing band inclusion of three brothers, 1350 people or so were treated to the sound of that voice for nearly two hours. The sound was immaculate too, I might add.
Starting with a PJ-Harvey-esque bluesy version of "When I was a Young Girl", Feist took in the majority of The Reminder with vocal support from much of the crowd, as well as the ecstatically received "Mushaboom" and a song "Fucked Up Kids" from the new Kevin Drew record. Highlights for myself were "Sea lion woman", "The Water" and "My Moon, My Man".
Despite the ridiculous insistence from venue stewards that no cameras were allowed (WTF? This is the Flickr / Youtube generation dude!), I took some video. Enjoy.
If you were there, what did you think of the show?
Sea-Lion Woman
[youtube]http://www.youtube.com/watch?v=Dt19w9DJwwE[/youtube]
Mushaboom
[youtube]http://www.youtube.com/watch?v=P-CGH6je2x4[/youtube]