2022 Best of | Best albums | Best songs | Irish albums | Irish songs | Best Of Podcasts | Guest lists | Best New Irish artists
10.
Robocobra Quartet
Living Isn't Easy
Belfast band Robocobra Quartet's third album came after a few years of playing live and improvising, so it's a record informed by the gelling of the actual six-piece whose cacophony of multiple saxophones, drums, basslines and spoken word vocals are their superpower strength.
Drawing on jazz, post-punk and hardcore, Living Isn't Easy (First Taste Records) was recorded and produced by drummer/vocalist Chris W Ryan (who has also made a name for producing the likes of NewDad and Junk Drawer).
The band's powerful musical force is matched in Ryan with a new found gravitas in his vocal delivery, and with songs written as snapshots of a character negotiating modern life that delve into the absurd like reciting verbatim a newspaper article detailing the daily routines of influencers ('Wellness'), escaping the rental crisis ('Chroma Sud') and the frenetic brilliance of entrepreneur-mania of 'Heaven'.
Ryan recorded all the vocals for the album in one take over the recordings, creating a weariness that emerges over the course of the record.
Living Isn't Easy won the Northern Ireland Music Prize 2022.
---
9.
Protector
Land Of No Junction, the debut album from singer-songwriter Aoife Nessa Frances brandished indie psych-folk melodies and acoustic arrangements drawing from late' 60s / '70s folk music.
Protector, the followup, released on Partisan Records, keeps the foggy psych-folk vibe while amping up the arrangements with a lushness that makes use of harp, synths and brass.
Written in rural Clare, and recorded in a house in Annascaul, Kerry, personnel includes Brendan Jenkinson (producer, keys, bass, synth, clarinet), Brendan Doherty(drums), Ailbhe Nic Oireachtaigh (string arrangements) and Conor O'Brien (horn arrangements).
Protector is a sumptuous and warm record, an unburdening of shackles which Nessa Frances described the experience of as "a spiritual experience."
---
8.
Oliveyolive
Life in Colour
Previously known as Olive on the Beat, Oliveyolive's debut album Life Of Colour (Hidden Hill) features 13 tracks of effervescent electronic music for the head and body, with turns from Hare Squead's Tony Konstone, Daryl Bengo, Daire Patel, Curtisy and Jamie Freed.
As Konstone instructionally says on track two, "throw away the key and let's get lost." The album fizzes with breakbeats, garage, Afrobeats, open-hearted vocals, and emotional synth melodies, the artist's self-described "Euphoric Therapy," informed by the Japanese idea of Wabi Sabi of embracing imperfection and impermanence.
Saint Sister appeared on the Nialler9 Podcast this summer.
---
7.
Skinty Fia
Fontaines D.C. joked about releasing a disco record last year, but their third album is certainly a "D" record in terms of being a dour enough album inspired by the distance between the band's new home in London and their birthplace of Ireland.
It's easy to be over-analytical on this band's intentions (and we've been guilty of that) as they are held up as the representative Irish band of the moment by much of the Western music press, and it's an understandable reaction from many that says more about who gets to speak about one nation's cultural identity and representation, which as it happens, forms the undercurrent of the returning theme on Skinty Fia, that songwriter Grian Chatten returns to throughout.
Divorced from an increasingly tiring narrative about the band's authenticity, Skinty Fia (Partisan Records) has revealed itself across the year to be a magnetic record, albeit one more comfortable in wallowing in the darkness than the pep of the debut Dogrel or the more accomplished second album A Hero's Death.
These songs seem to more readily acknowledge the influence of their rock forebearers (Stone Roses, Nirvana), and the band are such good players that they can easily reference specific sounds and make it their own. It's hardly a safe palette to work with, the band could have easily doubled down on their poppiest moments instead of including the accordion-lead 'The Couple Across The Way'.
At times, Skinty Fia is a little too dour, but after three albums in little over three years, it's fairly astonishing and impressive how quickly Fontaines have coagulated into such a big concern while continuing to follow their own musical noses as they go.
I hope they take a well-earned break before album four.
Nialler9 Podcast: Fontaines D.C. – Skinty Fia review
---
6.
Elaine Howley
The Distance Between Heart And Mouth
The Distance Between Heart and Mouth is an album (released on Belfast label Touch Sensitive) borne of an audio diary the Cork-based artist kept a via 4-track cassette machine during 2019 and 2020.
Also of The Altered Hours, Morning Veils, Crevice and Howlbux, Elaine Howley's solo release has a singular vision informed by that simple idea.
By finding joy in the aged mediums of a Walkman, longwave radio and a 4-track, Howley's album explores memories of radio shows and sound, with an experimentalism that broadcasts these songs from a mast in the wilderness with sustained backwards samples, echo, delay utilised with textures of soul, folk, ambient, electronica and warped pop.
---
5.
Smiling Like an Idiot
Following 2020's First Prize Bravery, Sorcha Richardson moved past any difficult second album worries with a collection of guitar/synth indie-pop music that marked a songwriter, who always had a way with words and melody, bringing her art to sparkling resonant places.
Smiling Like an Idiot (Faction Records) secures Richardson as one of our finest songwriters, capable of spinning songs that root the listener to a particular experience or night, visiting old haunts and sharing these places with the people in your life. As Richardson says it is "…about falling in love with a person and a place, which in this case is Dublin, and how those two are interlinked."
---
4.
Cormac Begley
B
Kerryman Cormac Begley plays a concertina as if he's finding new sounds it can make, stretching and pushing the air to create new musical shapes.
He's been doing it live for quite a while but B is the album where he shows his homework.
Standing for "Bass, Baile, Beaglaoich, Baile an Rua Bhroic, Blueprint, Begley and a host of insults beginning with the letter 'B'", B is the second solo album from the Kerry musician and he says the first solo bass concertina album of any musical genre.
B explore the rhythmic possibilities of the instrument – making its breath an enthralling sinewy bass, as on 'Rolling in the Barrel / O'Neill's March / Tralee Jail' and 'To War (Jig)' or the droning low-end metamorphosis of the air and reel of 'Cad É Sin Don Té Sin / John Brosnan's Reel'.
---
3.
Most Normal
Of course, Gilla Band's (formerly known as Girl Band) third record is anything but their most normal.
The Dublin noise band's album (Rough Trade), once again produced in-house by Daniel Fox (who had a hand in 3 other albums on this list this year), is their weirdest, most sonically diffusive record yet.
In between Gilla Band's version of pop songs – thunderous tectonic songs that you can shout along to like 'Eight Fivers', 'Backwash' or 'Post Ryan', there are passages of ambient and crispy noise as heard on 'The Weirds' and 'Gushie', the Aphex Twin Come To Daddy levels of sonic harshness on 'Bin Liner Fashion' and the discombobulating vista of 'Red Polo Neck'.
All the while, Dara Kiely's lyrics vacillate between self-analysis, self-reflection and quotable life-absurd one-liners – "I can't wear hats, I just get slagged", "at the end of the day, that's football", "i'm just the same prick," and "no one looks cool around a wasp."
---
2.
The Mary Wallopers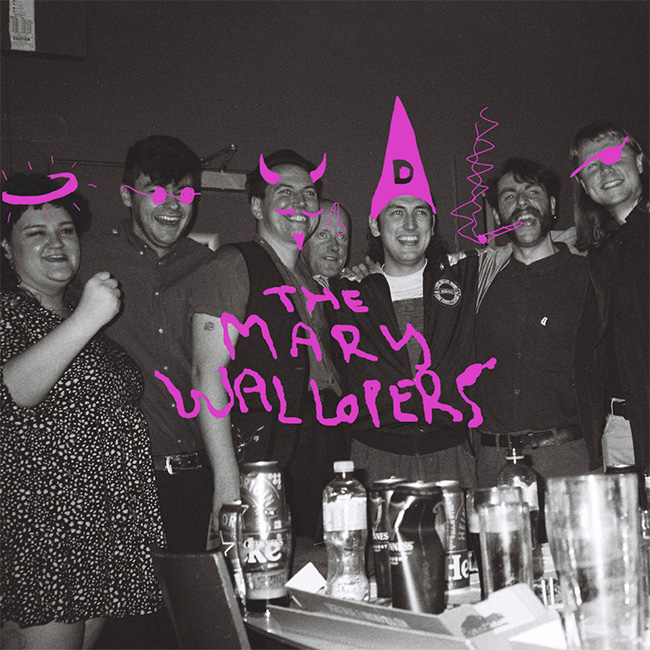 When The Mary Wallopers released their debut EP in the summer of 2019, the two brothers Charles and Andrew Hendy were more well-known for making satirical hip-hop as TPM.
Then came lockdown, and brothers Hendy, along with their pal Sean McKenna made a name for themselves with their bright takes on aul lad folk songs, streaming from a pub they made in their house in Dundalk.
By the time their self-titled self-released debut album was released this October, The Wallopers had taken over, playing on national TV, selling out an Irish tour as a seven-piece and playing around the UK, the source of a lot of their singing ire.
The album, recorded with Chris Barry at Ailfionn Studios in Dublin, keeps up the decades old tradition of Irish folk drinking songs which bash the Brits, the rich and the guards while raising a glass of porter, while deferring to occasional solemnity on the emigration ballad 'Building Up And Tearing England Down'.
With energetic verve, fine musicianship and Dundalk brogues, The Mary Wallopers captures the chaos and fun of these cheeky rogues' performances. Whether its recounting the tale of a lock-in on 'The Nights Gards Raided Owenys', the quipping riot of 'Cod Liver Oil & The Orange Juice' or the bachelor anthem 'Love Will Never Conquer Me', the band bring a theatrical divilment to proceedings that keeps you looking for another round.
---
1.
If My Wife New I'd Be Dead
Ciara Mary-Alice Thompson is a ultra-talented writer of songs who has developed a sense of identity that presents her as fun-time country entertainer, but like all country music worth its scuffed boots, there's a deeper layer of melancholy just under the surface.
On the CMAT album If My Wife New I'd Be Dead (produced with Oli Deakin, released with AWAL) Thompson plays with that dichotomy throughout her instantly enjoyable alt-country pop debut, filled with catchy toplines, pop culture references, and verses that easily break the heart and crack a smile.
The "Honky tonk girl of the G.A.A" reveals herself in such memorable lines – "My daddy didn't love me, so I guess I moved on to you" ('Peter Bogdanovich'), "What has two thumbs and would not read your book If you begged her to?" ('Groundhog Day'), "Ah why'd I have to co-depend upon another old man / I see how that has left me in the past" ('I Don't Really Care For You'), "Every barman is my best friend / Til he's kicking me out" ('Every Bottle (Is My Boyfriend)'), "Baby, I'm the Mae West of wanting attention" ('Groundhog Day'), or ' But who needs god when I have Robbie Williams? / And who needs boys with these voices in my head / That say I'm useless, I eat too much bread?" ('Lonely'). And that's not even mentioning 'Nashville'.
Along with observational tales of being unlucky in love and self-humility, the through-line of pathos exists throughout CMAT's brilliantly-constructed snarky songs, that soar with celestial pop choruses galore.
---
Nialler9's Top 30 Irish albums of 2022 – the list
CMAT – If My Wife New I'd Be Dead
The Mary Wallopers – The Mary Wallopers
Gilla Band – Most Normal
Cormac Begley – B
Sorcha Richardson – Smiling Like an Idiot
Elaine Howley – The Distance Between Heart And Mouth
Fontaines D.C. – Skinty Fia
Oliveyolive – Life in Colour
Aoife Nessa Frances – Protector
Robocobra Quartet – Living Isn't Easy
Silverbacks – Archive Material
Junior Brother – The Great Irish Famine
Just Mustard – Heart Under
Meryl Streek – 796
Daithí – I'm Here Now
Pillow Queens: Leave the Light On
Yenkee – Yen
Anna Mieke – Theatre
Selló – Sellótape
Ye Vagabonds – Nine Waves
Katie Kim – Hour Of The Ox
Melts – Maelstrom
SOAK – If I Never Know You Like This Again
Thumper – Delusions of Grandeur
Paddy Hanna – Imagine I'm Hoping
Telefís – a Do
Talos – Dear Chaos
Whozyerman? – Blink
Laurie Shaw – Bat Sanctuary
Martian Subculture – BANK PROLOGUE