In association with:
---
---
On Sunday at Other Voices, music is our church. But before we get to the actual church St. James, there's plenty of music to be had on the music trail.
Family entertainment
The Clare/Limerick via Zimbabwe rap group God Knows and Mynameisjohn shake open our muscles and our minds in the afternoon before the chats at Jim Carroll's Banter series in the back room of Foxy John's. They forgo the use if mics and utilise high stools instead for a high energy performance that finds a more natural home later that evening in the marquee of An Chonair, as young children and their family dance around to the high kineticism of the Rusangano Family, as their album is titled.
Somerville's soothing sounds
Things are much more soothing down in John Benny's by the bay in the afternoon where Somerville delivered an ethereal set of minimal music with electric guitar, laptop, keyboard and her quiet unassuming Galway voice. She offers solace through an acknowledgment of trying times and combined with hot ports and oysters, it reinvigorated the weary partygoers, Dingle style.
There's more still over in Dingle district court, where Wyvern Lingo are delivering their own type of pleasing justice: big-voiced folk band pop. On the road to the stunning vistas of the Conor pass, In the Dingle brewing company building, Booka Brass Band offer a complementary prelude to Kormac's big band later on with a Destiny's Child 'Survivor' cover to a backdrop of giant beer vats. Afterwards, Cloud Castle Lake bring their high falsetto atmospherics to the same brewery floor.
A slinky sexy indie-pop triumph
In the church, the Cork/Brazil/Norwegian trio All We Are create a fine impression for themselves. Their music is slinky and funky: indie music that sounds like the xx with real grooves. We board their fan train immediately. So much so, that they might be our new favourite band.
There certainly feels like there's some of that chemistry at play. The standing Cork drummer at the back runs the rhythm section, the singer Guro with her oversized bass sways with her instrument. The songs are sexy and breezy: tracks like I Wear You and Feel Safe occupy a delicate bright rhythm.
In thanking them, series producer Philip King says that Guro, upon watching the Other Voices Amy Winehouse film told her mother that she wanted to play that church and there's a real sense of triumph after their performance.
Romance delivered with a cackle
While her soulful R&B songs are graceful and romantic, the real Jessie Ware is a warm-hearted cackler, a down-to-earth charming lover of Dingle whiskey and a genuine talent. She tells a story of the intimacy of OV producing a comical moment when walking through Benner's Hotel, where her gig is about to be live streamed, only to hear a girl asking her friend "is she any good?" to whom Ware addresses on stage back through the live stream in the hotel.
But when she opens her mouth to sing, magic comes out, even just in this acoustic format with one guitar and a keyboard. She admits to having a penchant for the unrequited love song and many of hers have drama to them.
The set is chock with Sade-esque soulful ballads. There's recent album title highlight 'Tough Love'; 'You And I Forever' a song about her fellah "finally putting a ring on it"; her attempt at confident flirtatiousness 'Kind Of, Sometimes, Maybe' and her biggest ballad to date 'Wildest Moments'. Ware is a genuine talent as well as a genuine lady.
Ireland represents
Delorentos meanwhile have ended up taking the long way to a sustainable success. Their fourth album Night Becomes Light was released on Universal this year and it feels like the band have been rejuvenated. We used the same word this week but their songwriting and has evolved, as has their performance on evidence of their St. James Church performance.
A late addition, Kormac's Big Band, a live brass-laden band lead by DJ Kormac, take inspiration from old jazz recordings, Ninja Tune-style hip-hop electronica and turntablism.
Kormac's second album Doorsteps moved those inspirations into his own space and the result is a live show that feels less novelty and more substantial more akin to Bonobo's big live show. There is obviously not much chance that the album guests Irvine Welsh, Micah P Hinson and Speech Debelle are here, especially as Kormac were a late addition to the church, but there's the soulful voice of Claire Young on stage to make up for it, as the band swirl around the stage, anchored by Kormac on laptop, sampler and turntable, ever the master of ceremonies.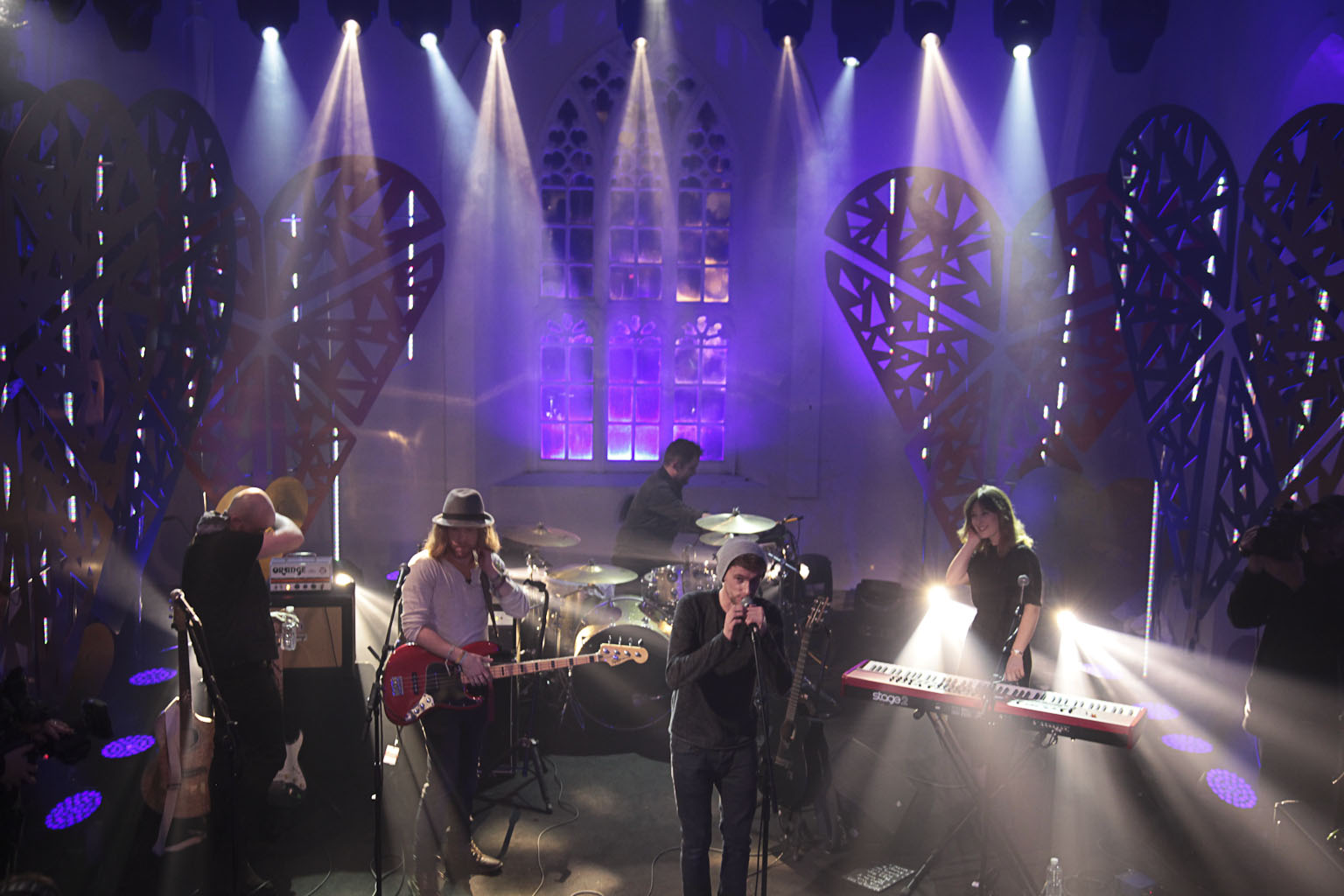 Walking On Cars close out Other Voices 2014 and there's none more fitting than the hometown heroes. One of the pleasures of working on a show like this is watching a band grow. Two years ago, the Dingle band played the IMRO Other Room. Now signed to a major, their set is an acknowledgement of their growing stature on the TV show they all grew up on where clearly means a lot to them. The songs are better, the band are tighter, they've considered their performance. The music harks back to the American voices across the sea from Dingle, who dominated airwaves in the 90s: the likes of Matchbox 20 with modern production techniques placing their songs in the now.
It's another triumph of a set in a day full of them. Just like the TV show itself, it's gone from an idea to an internationally-recognised recorded music retreat to a mini-festival; a beacon of respectful light in a fast-paced world.
Photos: Rich Gilligan.
Related