In association with:
---
---
The team at Other Voices might be 100 people deep who have been working for months on bringing the TV show back to the ring of Kerry every year but there's one variable they can't control: the weather. It's not called the Wild Atlantic Way for nothing.
Inch beach is a pertinent reminder on the trip to Dingle from Kerry airport of this wildness as the dark green majesty of the waves hit the bay and makes nice weather for opportunistic kitesurfers.
Warming up with the cold outside
But if it's ferocious outside, it's breezeless inside the doors of John Curran's pub on the Main Street in Dingle where poetician and Dublin "wurd" artist John Cummins is warming up the creative side of our assembled brains with rhymes and words that twist and turn like rap and sean nós about Phil Lynott, his daughter and the sizzlers and sozzled of the late night chipper.
Best laid plans of Us and Ben
It is a brief respite as news reaches that the tumultuous sea and roaring weather has taken Other Voices' best laid plans down with it. Ben Howard, anticipated by many, including a throng of people waiting patiently outside the hearth of the show, St. James Churcis not able to perform. "The weather has been loud," says series producer Philip King in his introduction as acknowledgement.
Stepping into Howard's English singer-songwriter shoes, the young Leeds musician with the long black hair, Eaves, offers dark finger-picked guitar folk as an alternative. Eaves has a voice that swirls in the song with an expressive bass-laden tone that is older sounding than his pale skin suggests.
In songs like 'Alone In My Mind', he recalls the American alt-indie singer Kurt Vile (the hair also suggests that) except with a greater clarity of speech. When he takes to the piano for 'Timber', singing about "boys up the street" he reaches further back to singers who sat behind a grand instrument in the late seventies.
Scotland rises up
Tradition is rife in the music of Fife's Kenny Anderson, the prolific Scottish artist known as King Creosote and introduced by BBC Radio One DJ and our Other Voices host Huw Stephens, as a man who has released 40 plus albums, many of those on self-pressed CDRs.
Most recently, his work with electronic producer Jon Hopkins, the 2011 album Diamond Mine brought him a Mercury Music Prize nomination. Anderson is most influential in the folk scene of his homeland, from his address on the eastern Scottish coast of Fife, a fertile home for musicians like The Beta Band, The Fence Collective and James Yorkston as threaded together narratively in Vic Galloway's book Songs In The Key Of Fife.
Anderson's songs and torrential output is part of the history of that place and he brings a flavour of that with his peculiar dialectal howl and his own Scots clan playing with him on cello, piano and drums. 'Pauper's Dough', a new song from his recent album From Scotland With Love, is anthemic in its sound and sentiment, urging us "to rise above the gutter you are inside," while 'Largs' from the same album adds a vaudeville shuffle to proceedings. From one coast to another, King Creosote's music finds a home wherever it goes.
Emerald music
The nomadic harmony folk duo The Lost Brothers might think of "home" as a loose concept at this point. The Navan and Omagh metaphorical siblings share a penchant for a life on the road, currently clocking in at two and a half years travelling around the world to share their songs.
They record nomadically too, finding like-minded producers in Nashville, Sheffield, Portland and Liverpool, to name but four. Their songs recall the greats: Roy Orbison, The Everly Brothers and Simon & Garfunkel. There's power in two old-fashioned voices, effortlessly able to support and compliment each other in such minute detail.
Songs from their fourth album New Songs Of Dawn & Dust, 'Derridae', 'Soldier's Song' , 'Hotel Loneliness' and the lilting 'Gold & Silver' bring us to a time we could never have lived. They are joined by violinist Steve Wickham and the illustrious Frames fiddle palyer Colm Mac Con Iomaire throughout and a cover of Bob Dylan's 'Corrina, Corrina' is a particular highlight. The Lost Brothers described Other Voices as "a glowing emerald" and it's a suitable description for the band themselves: a striking thing, rare and rococo.
A jolt from the buke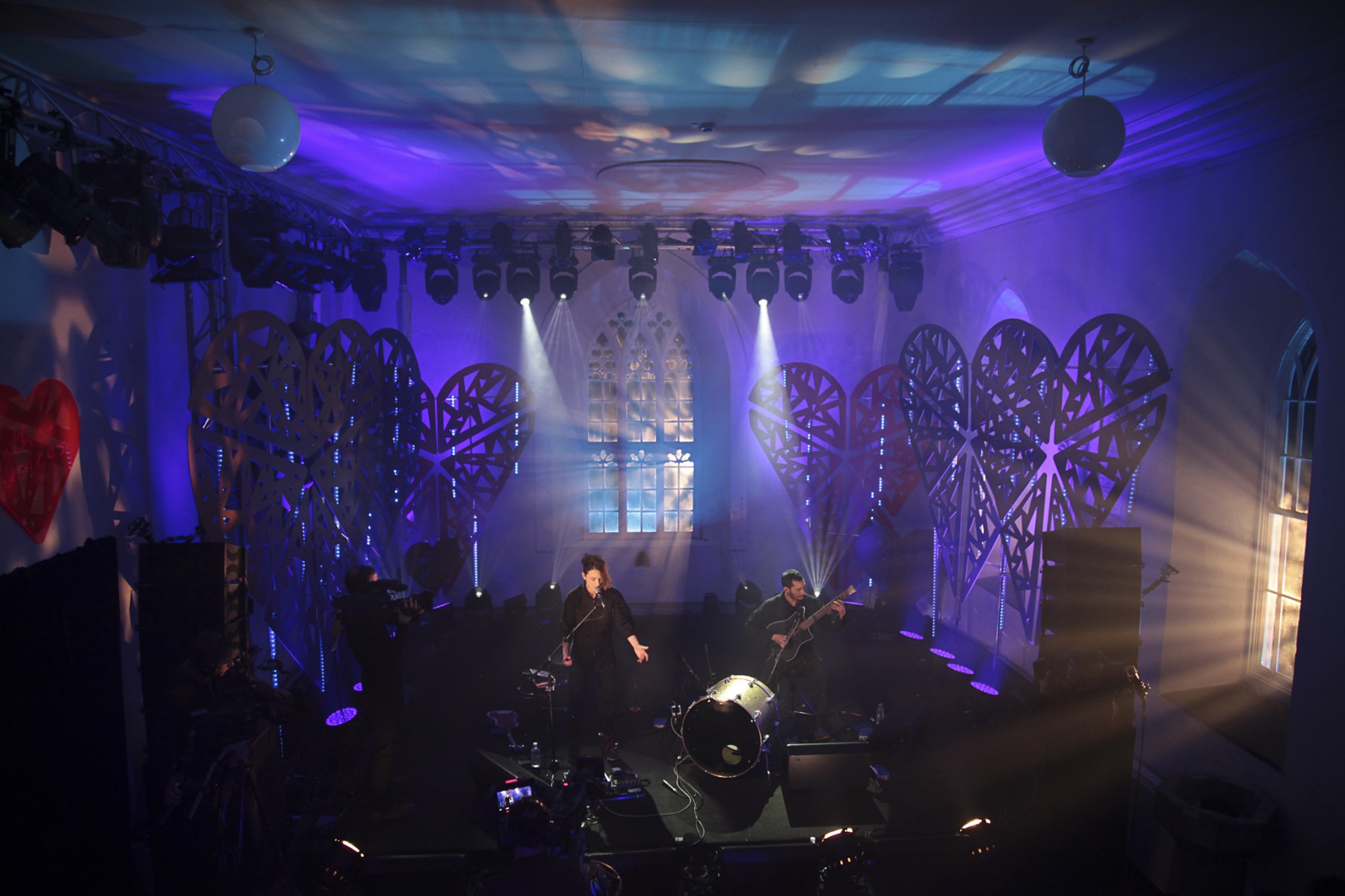 If The Lost Brothers had us drifting to the past, the New York duo of Buke And Gase jolted us to the present with rumbling rock music made by customised instruments that give the band their name. The "buke" is a baritone-ukelele and the "gase" is a guitar/bass hybrid that produces those low rumbles. The pair also use a "toe-bourine" (you can guess what this does) and a range of effects that change the tone of Arone Dyer's voice into lower octaves.
The thunderous duo tell the congregation we can stand up despite them sitting down but it's hard to figure out whether to rock out or sit back. Buke And Gase's entire song craft sounds like its hurtled into a filter that garbles and mangles the source. It's discombobulating and strange, like listening to a hiss-filled cassette that has caught in the stereo on an off-kilter loop.
There are moments of chugging strings, rock histrionics and a song that sounds like Marilyn Manson's 'Beautiful People' all adding up to an experience that is like listening to sheltered folk musicians from the 1800s interpreting rock music after reading about it in a book. It's thrilling and warped.
To further prove the point Dyer pitch shifts her voice to a baritone on her thank you speech, prompting an audience member to quip "Other Voices? Sure she'd several of them."
Twins stand apart
If there's a singular standout performance on the night it comes from French-Cuban twins Ibeyi, who turn 20 at midnight moments after their show. Lisa-Kaindé and Naomi Diaz, are young yes, but they have illustrious parentage. Their father, Anga Díaz, was a well-known Cuban percussionist who played with Buena Vista Social Club.
His death prompted the twins, encouraged by their Venezuelan mother at age 11 to learn the cajón (the percussive box instrument) and to sing the songs of his ancestors, sung in the Nigerian tongue of Yoruba.
They arrive on-stage in St. James' Church singing in that tongue a capella. It becomes very clear why XL Recordings, the label home to Adele, snapped these two up to release their debut album next year.
They are magnetic in performance. Lisa-Kaindé sits at the piano with Naomi facing her. They are distinct personalities despite their closely-shared genes. Lisa-Kaindé has the style of a jazz/soul diva while Naomi, a lover of hip-hop and electronic music is more energetic and employs a sampler and a range of percussive instruments. She even uses her body as an instrument, beating her chest, snapping her fingers and slapping her thighs on a brittle song about their mother (who is in the audience) called 'Mama Says'.
They sing in English but their outbursts of Yoruba language bring some African exoticness. They perform a cover of Better 'In Tune With The Infinite' by the rapper Jay Electronica, someone not expected to by cited in a church in West Kerry but it's their performance of the single 'River' that gets people clapping along and stomping feet in the pews to its simple gospel-tinged beat.
It's still early days for the twins but they captivated and excited the audience with their talent. A room fell in love with their sound and energy. Upon finishing their set with a rousing a capella, the church stood up with them to offer a standing ovation. Music producer Aoife Woodlock appeared and presented the twins with a cake with "Ibeyi" written on it to mark the first day of their twenties and a marquee performance.
Invigorated, the crowd dispersed into the night. Some headed to the afterparty central of Benner's Hotel, some went to An Chonair to see Kormac's Big Band tear it up, while some of us, ended up where we began, with a Dublin lyricist inspiring us with words, this time, the rapper Lethal Dialect and his band in McCarthy's.
ALL PHOTOS: Rich Gilligan.