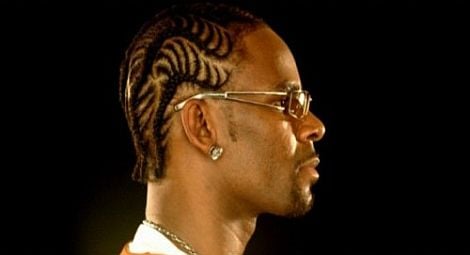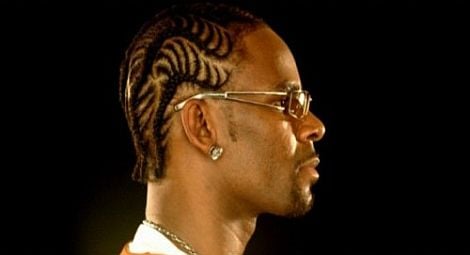 I read an article by Marc Hogan on R Kelly recently and I've been wondering what the answer to the question is. Is he a musical genius or a comedic novelty act?
Culturally and musically, he is responsible for the worlds first meta-song hit with the "Ignition Remix" – a song in which the main purpose of the chorus is to tell us the song is a remix as well as unique vocal style of syncopated singing rap he employs on his records. Let is not forget the seminal episodal hip-hopera Trapped in the Closet. It's with these kind of tricks that Kelly blurs the lines between musical ingenuity and comedy. Of course, it's hard to ignore the disturbing sexual allegations in all of this especially considering Kelly is a self confessed "sexosaurus" (See lyrics from the bizarre "The Zoo") .
The genius of the man is his ability to appeal to different audiences as Hogan discusses:
There are people who listen to "Bump N Grind" ironically, and there are (were?) people who listened to it unironically. There are people who listened to R. Kelly's No. 1 collaboration with Celine Dion and found it inspirational, and there are people who didn't listen to it. There are people who want to hear him sing about the tragedies of our time, Hurricane Katrina or the Virginia Tech shootings, and there are people who want to laugh at his jokes.
So with that in mind, I present to you "Sex Planet" from Kelly's new album Doubled Up. I can't imagine anyone honestly listening to this song in the bedroom and feeling the pun-heavy lyrics in any heartfelt way. On the other hand, play it to your friends and enjoy the songs disturbed comedic value with literary lines such as:

"I'm about to twinkle and touch your soul / Once I enter into your black hole"
Girl I promise this will be painless / We'll take a trip to planet Uranus"
"Don't trip I got a giant rocket / Glidin through just hitting your pocket"
"I won't stop until I give you meteor showers"
With lines like this, I imagine Kelly living on both Music Planet and Comedy Planet but never committing to either. Why would he? He's smart. Both camps sell him records (50m worldwide to date) and keep him in the public consciousness after all these years despite the sex charges. Try as you might to parody him (As Dave Chappelle did) nobody parodies Kelly better than Kelly himself and that's why he is both a genius and a comedian. Just don't play his albums in the bedroom.
MP3
Sex Planet Lyrics
Jupiter
Pluto
Venus and Saturn
I'm leavin Earth girl to explore your galaxy
Ten to zero
Blast off here we go
We'll climax until we reach Mercury
Girl, Tell me are you ready girl
To take a trip out of this world
I guarantee you'll like it
It'll take your breath away
Gonna get you so excited
Once I've tasted your milky way
Girl spend the night come take a flight with me
Out into space
Girl you're sending me these sexual energies
And i gotta grab it
Right now I've gotta have it
Shooting stars, a trip to Mars
I can get us there from where we are
So don't trip i got a giant rocket
Glidin through just hitting your pocket
Chorus:
Sex planet
Come fly away with me
Right in my ecstacy
Out in the galaxy
Sex planet
Get ready for take off babe(hmmm)
Have a safe trip babe
Now is just us both
I've got the control
In the middle of darkness
Girl relax and just flow
I'm about to twinkle and touch your soul
Once I enter into your black hole(baby uhh)
Girl now that you're next to me
We will be just like satellites
Watching over the Earth
We'll make space our paradise
Girl I promise this will be painless(painless)
We'll take a trip to planet Uranus
Uh just put your trust in me
And girl I promise destination
will be a trip that you will never forget
I'm gonna take you out of this world
So hold on tight my dear
I'm about to take you out of here
And get you to my Sex planet
Chorus:
Sex planet
Come fly away with me
Right in my ecstasy
Out in the galaxy
Sex planet
Get ready for take off babe(hmmm)
Have a safe trip babe
Ohh
We'll stick a flag on the Moon
First couple to ever make love on planet Neptune(uuhh)
And if time allow us
We'll be gone for hours
I won't stop until i give you meteor showers
So if you want it say Uhh
And if you need it say uhh
If you really gotta have it say uhh
And you want me to take you to space
Chorus: (2x)
Sex planet
Come fly away with me
Right in my ecstasy
Out in the galaxy
Sex planet
Get ready for take off babe(hmmm)
Have a safe trip babe
So get ready for lift off babe
Get ready for lift off babe
(Kells): You ready?
(Girl): Yeah
(Kells): Hold on to this
(Kells): Here we go
Our mind is ten, nine, eight, seven, six, five, four, three, two, one…
Babe
Start our engines…
And now flyyyy slow
Uhh uhh baby (Flyyyy slow)
Say it feels so good
Girl when we (Flyyyy slow)
See my rocket is so full of fuel baby
Yes it (is Flyyyy slow)
Therefore
We can ride all through the night
(Flyyyy slow)
We won't stop babe
We won't stop babe