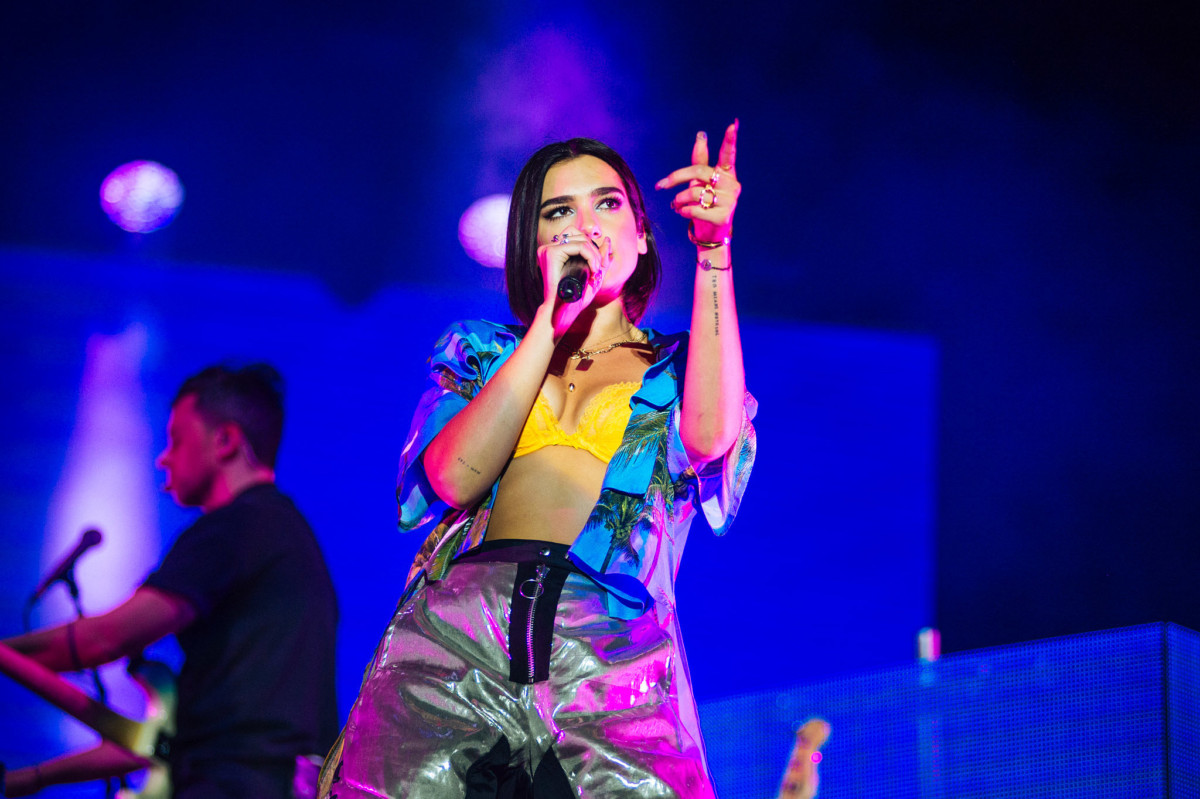 As the dust settles on another Electric Picnic, the fifteenth one to be precise, it's worth reflecting on the Goliath that Ireland's biggest music festival has become. This year felt like a bit of a turning point for the Stradbally festival. While the weekend had originally been intended as a space for more alternative acts than the likes of Oxegen was providing in the mid-00's, it seems like the gradual progression toward that sort of more mainstream lineup and demographic is complete.
Sure there are plenty of experimental acts and unique experiences to be discovered by those willing to look for them, but most seem content to hang out at the main stage waiting for Dua Lipa instead (she did put on an excellent show to the biggest crowd of the weekend). Many will bemoan this transformation, but it's a natural progression – one which reflects the changing nature of the demographic which attends Electric Picnic and the sort of music they want to see. Everything changes. Electric Picnic once answered that call but the likes of All Together Now, Another Love Story, Beatyard, Forbidden Fruit, Metropolis and Knockanstockan, all of which didn't exist when EP launched, now cater to the alternative without having to go near the huge radio mainstream acts like Picture This and Walking On Cars.
At the same time, the Picnic is huge, so Dublin satirical rappers Versatile were the talk of the weekend among the people we chatted to and there was still space for Denis Sulta to attract a huge crowd to Rankin's Wood Stage on Sunday like some sort of Scottish Pied Piper of high repute, calling the youngest demographic from the campsite for some 4/4.
One core aspect of the Picnic remains. It's still a music festival. Last weekend Stradbally played host to some of the country's and the world's premiere musical talent. From demigods like Kendrick Lamar to exciting new prospects like the effervescent Nilufer Yanya. Between trips back to the campsite for supplies and hang out sessions in Trailer park's Tiki bar, we were lucky to listen to a few of them do what they do best. Here are 13 of the Nialler9 team's Electric Picnic 2018 musical highlights. Words by Luke Sharkey and Ruth Cronin.
1.
King Krule
Archie Marshall takes to the Rankin's Wood stage amidst the gale force giddiness of a Saturday night at Electric Picnic. Having released The Ooz, his second album, last year and hit the road ever since, King Krule and his band are road tested and professional. His performance is pure lean physique. It's a serious show and fronted by a serious showman. Centre stage amid a large musical ensemble, Krule's presence and narrow grimace seems to emit a gravitational pull, attracting a huge crowd.
'Dum Surfer' comes early. Played way above the tempo on the studio version and with far more tangible punk overtones. Krule's guitar moans while him and the backing singers exchange the frantic lines of the verses. It's actually hard to hear him scream the chorus above the crowd and it's not because of any mixing issues. Something in the energy of his delivery taps into the crowd, producing one of the rowdiest spectacles of the weekend. By the time the opening bars of 'Easy Easy' roll around toward the end of the set, the entire tent is one blissful swaying mass, arm in arm celebrating and singing with one of Electric Picnic's absolute stand-out acts. – Luke
2.
St. Vincent

St. Vincent draws a large crowd to the Electric Arena on Sunday night. The singer is dressed (inappropriately for a muddy festival) in a neon pink PVC dress and thigh high boots, while the faces of her band members are concealed by brown mesh, making them impossible to decipher. The upbeat set is complemented by a stunning display of strange visuals featuring St. Vincent in unusual situations; in one she punches herself repeatedly in the face with a floral boxing glove, in another she wears strap-on breasts while staring pensively from a dental chair.
The emphasis of the set is on her latest album Masseduction which saw release last year, with revised older material weaving in and out. The over-arching theme of power relationships is prevalent throughout; at one stage an inscrutable man dressed in a large coat and concealed face menacingly circles St. Vincent before handing her a guitar, at which point she shouts "let's fight the powers that be!" and launches into the irresistible opening riff of 'Fear The Future'. Her guitar virtuosity is evident; she shreds up and down the neck of her self-designed Ernie Bell guitar with rigour and ease. 'Los Ageless' and 'Pills' are highlights, as is the new and improved 'Digital Witness' from her Grammy award-winning self-titled album from 2015. 'New York' is an unusual song to close with due to its slow tempo, but it is one of the best received nonetheless and showcases an alternative, softer side to St. Vincent's personality that we rarely see. – Ruth
3.
Kojaque

Photo: Tara Thomas.
The rising Softboy MC had played at Other Voices Stage earlier on Sunday to a packed crowd and later, in the night, he took to the Little Big Tent, a larger space to command for any act. To his credit, the artist handles the larger space perfectly. It's a good sign when the venue is fuller at the end of a performance than at the beginning and Kojaque goes from having five or six rows of people to a three-quarter full tent by the end, an impressive feat. Performing with fellow label head Kean Kavanagh on the decks, the MC rips through renditions of 'White Noise' and 'Last Pint' from Deli Daydreams for starters.
A little bit of saxophone over an immaculate version of 'Bubby's Cream' is the perfect mid-set pick me up adding depth of character to the overall performance. Then Luka Palm comes on to perform the pair's recent collaborative single 'Date Night' and the entire crowd sets on fire. It's a glorious moment and another milestone in one of the country's best performers career. Onwards and upwards. – Luke
4.
Nilufer Yanya
London-based soulful indie artist Nilufer Yanya had caught my ear in the lead up to the weekend with the wonderful material on her latest EP Do You Like Pain?. Equal parts soulful, pop and melancholy, her astute lyricism and commanding melodies had me rushing to catch the start of her Sunday afternoon set. While sometimes an artist, especially a newer one, can fail to live up to expectations, this was not the case with Yanya's performance. Her 45-minute set was a pleasure to watch.
One thing which might not come through on her studio material is just how talented a guitar played the artist is. Playing without a plectrum, her hand lies curled up atop the instrument's body, recoling in time to the beat to pluck out a sweet chord. Between that and her wonderful backing band, featuring sweet melodic additions from a tenor saxophone, Yanya's set is one of the most enthralling and exciting of the entire weekend. -Luke
5.
Wolf Alice

Wolf Alice's music has transitioned in recent years, with their last album leaning more towards indie-pop than their rock-infused earlier material, but the amount of people in the arena shows that the transition has lost them no Irish fans. Frontwoman Ellie Roswell is the ingredient that knits the music together; she is charismatic and oozes confidence on stage, holding herself and her guitar with practiced poise. Crowd favourites 'Formidable Cool', 'Don't Delete The Kisses', and 'Space & Time' showcase what the band do best with howling guitars and feral vocal lines, and prove that they can totally command their audience during quiet moments and trigger a near mosh pit during heavier songs. The polished set asserts them as a versatile band who have a clear idea of who they are and where they intend to go. – Ruth
6.
The Blaze
Having made their name with stunning music videos and heartfelt electronic anthems, The Blaze are one of the most highly anticipated acts of the weekend. The French duo takes to The Cosby tent on Sunday night, hidden behind an elaborate audio-visual stage presentation. A drawn-out introduction, featuring the group's hallmark silky smooth synth sounds, gradually builds to the first real explosion of sound and a rapturous response from the crowd. Despite a busy programme, plenty have made time to come see the French duo do their thing.
The first real stand-out moment of the set comes in the form of 'Virile', an uplifting anthem. The group's howling vocals spill out over the light show and into the ether of the audience. Jubilant faces and communal clap-alongs are the currency here, encouraged by the wild dancing of the group's two members. 'Territory' is a weekend highlight, with its industrial percussion sounds piercing through the mix. The group's attention to detail, shown in their audio-visual presentation, is the best I see all weekend. While their music is certain fantastic in its own right, the evocative images which accompany it in a live setting are what stick with me for the rest of my stay in Stradbally. -Luke
7.
Kendrick Lamar
"Pulitzer Kenny" reads the fluorescent backdrop behind larger than life Compton MC Kendrick Lamar. A reference, no doubt, to his being awarded the prestigious prize for his most recent album DAMN. However, it's also a fitting reminder of just how all-encompassing Lamar and his music has become in the modern music discussion. Lamar is one of the few artists to not only completely dominate the mainstream of music but also gain the zealous admiration of so-called music heads across the world. Regardless of age, race or gender, his name crops up in any best of discussion. Here in Stradbally on Friday night you'd be hard pressed to find someone who isn't excited to see him.
That's why 40,000 people are stood outside cheering in the rain on Friday night. Amid the material played in the early part of his performance are huge tunes like 'King Kunta' and 'Element'. Unfortunately, long waits between songs make the set feel much longer than it actually is and eats into precious potential song time. There's also little doubt that what's happening onstage means far more to most of the crowd that it does to the performer himself, though this is a natural result of continually playing headline slots on the world's biggest stages. When it does swing into full gear it's wonderful. Tunes like 'XXX' and 'Money Trees' are prime examples of some of the best hip-hop ever written. A headline performance from a true headline artist. – Luke
8.
Sorcha Richardson
It can be difficult to draw a crowd early on the third and final day of Electric Picnic but Sorcha Richardson has managed to do just that. She opens her set promptly at 1.30pm with 'Ruin Your Night' accompanied by an accomplished four-piece band. The Dublin songstress has an innate ability to compose songs that combine nostalgia with humorous anecdotes, often about her childhood "we hid our bottles in the tress / we couldn't find it later, guess the neighbour's getting drunk for free". Richardson has a cool, nonchalant attitude on stage but is consistently engaging nonetheless; she shares jokes with the audience easily in between songs. 'Petrol Station' and'Ruin Your Night' are high points; warm synths and twangy guitar lines are an unusual combination but Richardson makes it work. Ending the set with the gorgeous 'Walking Life', she asserts herself as one of Ireland's freshest and fast rising talents. – Ruth
9.
Sigrid

Photo: Tara Thomas.
Norwegian singer Sigrid comes with no frills and big anthemic songs, and that's what sets her apart from the other pop acts on the festival bill. Her mere presence on the stage of the Electric Arena is enough to send ripples of excitement through the packed-out tent (and earlier at her surprise Other Voices set she made an audience member cry with excitement). When she headlined The Academy last March she was recovering from a flu and wasn't as sprightly as usual, but today we get to see exactly what she's capable of. She pirouettes around the stage with the lightness of a ballerina and delivers hit after hit with unrivalled zest and ardour. 'Fake Friends' and 'High Five' are clear crowd favourites, while the gentle 'Dynamite' wins over anyone who wasn't convinced of her stellar talent before. As if she hadn't melted enough hearts with the set, she starts to cry at the end of 'Strangers' when the crowd sing all the words back to her acapella. It's official – Sigrid is the pop star we've all been waiting for. – Ruth
10.
DJ Koze
German DJ and producer DJ Koze's set begins with a bit of a whimper. It's 10:30pm on Sunday night and it seems like everyone is at The Prodigy or Peggy Gou. The Rankin's Wood has maybe got a 100 people in it and I'm definitely starting to feel the cold. Thankfully, the German maestro absolutely owns his hour and a half set, drawing in plenty who flock from The Kooks with apathetic faces and some who find the Prodigy's relentless breakbeats a bit too much. Mostly drawing from material off of Knock Knock , his latest album, Koze's blend of disco and house is the perfect tonic to sore legs and feet.
By the halfway point the tent is half full and starting to make a lot of noise. 'Planet Hase', his collaboration with Mano Le Tough drifts in and out of the mix for about 10 minutes. As midnight begins to roll around, Koze drops 'Pick Up' and it's genuinely a euphoric moment. It's a long version of the tune that plays for about 10 minutes but could have gone on for a further 10 and still would have been fantastic. As I spill out of the Rankin's Wood for the last time and head toward the Body&Soul area I'm totally confident that I've made the right choice with my Sunday night headliner. – Luke
11.
Raye

Having been introduced to rising British pop star Raye through her smash-hit with Jax Jones 'You Don't Know Me', I was more than a little apprehensive when headed to her Sunday afternoon set at the Little Big tent. I needn't have been though. Accompanied by a full backing band and featuring a refreshing lack of pitch correction technology, Raye's set is vibrant and colorful. Her blend of dancehall and R&B inspired pop music the perfect pick me up for an admittedly jaded Sunday afternoon.
Avoiding the usual pitfalls of a pop performance means that her set has a consistent level of quality. Despite my concerns, there is no hint that the artist is rushing toward the safety of her big hits. Instead, her back catalogue showcases an artist with depth and a stand out factor rare amongst her contemporaries. Of course, having a few anthems in your back pocket always comes in handy. Set highlight 'Cigarette' has to go down as on the most memorable moments of the entire weekend. It's hard not to walk away with a huge grin, even if I have been proved a doubting Thomas. – Luke
12.
Fontaines D.C.
2018 has been very good to Fontaines D.C. so far, and the performance at their set at the Body & Soul main stage affirms just as much. Grian Chatten is a captivating and intriguing frontman; dressed in a baby blue soccer jersey, he sings in a thick Dublin accent (think The Dubliners meet The Fall) and stares potently at the crowd while doing so.
He bites his nails during the raucous instrumental breaks as though lost deep in thought, choosing carefully the words that he is going to sing next. 'Liberty Belle' and 'Hurricane Laughter' are dynamic and full of force, and this is mirrored in all the band member's movements and facial expressions. Arguably one of the first of a litany of new punk-rock bands that have come out of Ireland recently, there is no doubt that Fontaines D.C. are one of the country's best new exports into the international industry. – Ruth
13.
Mother DJs

After five Electric Picnics, you'd think I'd learn to stop making plans for Sunday night. Invariably I end up, like a thousand others, having the time of my life at the Body&Soul Earthship stage with the Mother DJs. Playing the same slot every year has made the collective's show-stopping (literally) set a bit of an Electric Picnic institution. Just over three hours of glorious 80s hits and all your favourite disco cuts makes using what little energy you have left by the Sunday night so easy. Whether it be air soloing to Fleetwood Mac's 'The Chain' or sidestepping to Earth, Wind & Fire's 'September' the Mother DJs always provide the weekend's best platform for dancing. It's all easy smiles and gratuitous hugs with whoever's left standing beside you at four in the morning.
My personal highlight comes in the form of Erasure's seminal hit 'Respect', by the third chorus my voice is completely gone but by that stage it doesn't really matter. As the final bars of the set-closer ring out, the Mother DJs have again made it easy to see why so many people place Electric Picnic on the high pedestal they do. – Luke