From Thursday to Saturday this week, seven venues will be occupied by 104 Irish bands playing the Hard Working Class Heroes festival playing to music fans, interested parties, industry delegates, bands, friends and all sorts. There are free daytime gigs, a convention in the Liberties speed sessions, panels, tech companies, talks and much much more. Tickets are €20 per day or €45 for the three days. It's one of my favourite weekends in Dublin of the year. There's a great buzz about.
Here are 18 new bands to see this weekend, I kept it strictly to bands that have not released a debut album yet. Enjoy.
---
---
1. Rusangano Family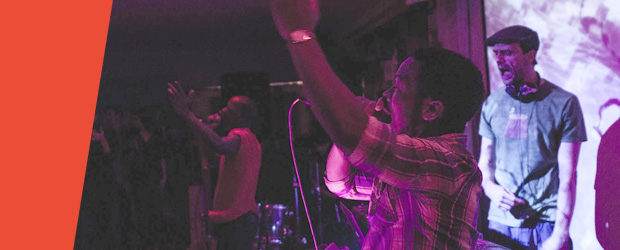 Energetic talented Limerick rap trio.
Anyone who witnessed these two Limerick MCs (Murly goes untitled for now) live and producer John Lillis, like last Friday night's Minimum Maximum Block-T show has felt the relentless energy of their music: an all-moving, all-interacting proper show. Plus, they have released one of the best Irish albums this year too.
---
Kildare band return with a rich new sound
Michael Hopkins and Andrew Lloyd played their first gig in four years with four band members last Friday with us and  showcased a new sound that traced a line between electronics and indie with rich songcraft and confident style. They used to sound more like The Police, now they sound more like they're own thing.
---
Dublin emotive pop purveyors.
Thursday Oct 2 – 10pm @ The Workman's Club / 14:00 @ NDRC, In The City
A new band formed from Futures Apart and Hush War Cry, the two songs so far featuring production from Darragh Nolan have suggested an elegance and a quality in the arrangement and songwriting of these Wild Beasts-style '80s throwback synth pop tracks. 'Give It Up' is a particularly exciting track.
---
Ambient bass-toned duo from Galway
Thursday Oct 2 – 8pm @ The Workman's Club / 1:30pm @ HMV Henry Street
This Galway duo make ambient electronic music with cold tones from a warm instrument, a bass guitar and the singer Alison's icy voice. Their new EP Begin came out last week on High Society.
---
Mullingar indie-pop band on the up
Thursday Oct 2 10.40 @ Bad Bob's
Four Mullingar school-friends with a penchant for pop hooks and charming indie-rock music. They're on the way up, this weekend is a good time to catch them.
https://www.youtube.com/watch?v=wO4SJ5H5b5g
---
Baldoyle singer-songwriter
Thursday Oct 2 10.40 @ Bad Bob's / 1pm @ Jo Burger
Dublin singer Gavin Farrell is still in early days but citing Perfume Genius and Youth Lagoon as two influences on his bedroom folk pop has me intrigued. He's just released his debut EP tell me we both matter, don't we?
---
---