This was not an easy list to put together. What started off as a simple idea ended up evolving into quite the project. Originally, we wanted to compile a small list of brilliant new music to highlight to our readers. However, the more research we did the more we realised just how many unique and compelling new artists there are around the world right now. As such, we ended up including far more than we had first intended. Listening to each of the acts on this list, it's easy to see why.
All the artists on this list come from an eclectic mix of genres and backgrounds. Each brings their own specific set of talents and perspectives to the table. Some are a little more established than others. We tip them all to do fantastic things in 2019 and each are thoroughly deserving of your time and attention.
Lastly, the numbering on this list shouldn't imply a rank or preference. Some artists will appeal to certain tastes more than others. There's plenty for all to enjoy here.
---
1.
Loyle Carner
Signed to AMF Records, 24 year old Loyle Carner is the most promising artist currently emerging from Britan. His 2017 debut boasted a mix of downtempo R&B instrumentals and the sort of urban bon mots that would have been suited to an early record by The Streets. A blend that worked so well it earned him a Mercury Prize nomination. While Carner is among the most established acts on this list, I tip him to rise to the ranks of superstardom in 2019. His latest single, 'Ottolenghi', is the best track the MC has ever produced.
With a big tour on the way and another album due sooner rather than later, Carner could be huge. Especially if that album is filled with material as good as 'Ottolenghi'.
2.
City Girls
"Fuck your Netflix and chill what's your net-net-net worth?"
Most will recognise Yung Miami's voice from her feature in Drake's 'In My Feelings'. One half of Florida rap duo City Girls, Yung Miami and her counterpart JT dropped Girl Code in the latter half of 2018. The album is vibrant, aggressive, explosive, and above all else, fun. Considering the growing mainstream appetite for female MCs, and the fact that the duo are a technical step above most of their counterparts, City Girls should be on your radar right now.
3.
Fieh
Hailing from the town of Eina, Norway is 8 piece nu-soul group Fieh. Founded by lead vocalist Sofie, the group have a vibrant method of writing music. Just check out their breakthrough single 'Glu'. There's an upbeat neo-funk vibe to the instrumental, but plenty of hip-hop attitude in the vocals and the slightest hint of punk's signature anti-establishment attitude in the strong feminist message behind the track. It's still early days for the band, but considering they've landed a Eurosonic slot and have received support from Red Bull, it's clear we're not the only ones who see plenty of potential for their future.
https://www.youtube.com/watch?v=FY3QaOA5FPU
4.
1010 Benja SL
One of our favourite discoveries of 2018, it's hard to overstate just how good 1010 Benja SL's Two Houses is, with its atmospheric avant-garde R&B. We don't know that much about him, his social media is pretty cagey with details. What we do know is that he's signed to the Young Turks label and has only recently been active in terms of releasing music. Fingers crossed we get more from the artist in the year to come, maybe even some tour dates too? Newcomers should check out 'Tragic X'.
5.
Pat Lagoon
Pat Lagoon must be among the hardest working artists in Ireland. The Waterford-based MC headed up the release of two full EPs alongside 3 separate stand-alone singles in 2018. The MC has shown plenty of diversity, from the more pop-centric vibe of the Agua Sippin EP to the Noire trap of the Recess EP. Often found collaborating with Paye Fox and RikShaw, this group are one super solid release away from challenging for the title of best Irish hip-hop collective. In any case, Lagoon is clearly a prolific artist with the talent, discipline and know how to achieve his vision. Newcomers should either check out 'Coming Through' from Recess or 'Stack This Bread' from Agua Sippin.
6.
Jimothy
Here's our oddball choice. Jimothy Lacoste is part genius and part gas. A young British MC, Jimothy makes satire with a hip-hop twist. Just how satirical it really is remains up to debate, but it is very very funny. He's very much a product of the modern internet ecology. Just have a look at his video for 'Drugs' to understand what we're talking about. It's golden. He's just been announced for Longitude.
7.
Kelsey Lu
Kelsey Lu is an artist emerging from chrysalis. Listening to her 2016 EP Church it's hard to miss the obvious avant-garde pop and art music influences in the English artist's work. Whereas her latest single, 'Due West' lies firmly within the borders of pop music. In essence, Lu has made the move toward mass appeal, with great success. Considering her rich C.V., including work with titan Florence Welsh and Dev Hynes, it's easy to imagine the artist's upcoming long form release being one which causes waves throughout the pop, R&B and art music fanbases. She plays Dublin in March.
8.
Holly Walker
Londoner Holly Walker first came to our attention by co-penning and singing on Maribou State's 'Nervous Tics', one of our highlights from their fantastic Kingdoms In Colour LP. Walker has done even more work with the group in the past, including duties as their touring singer and a collaborative EP in 2013. Late 2018 saw the first solo material from Walker in the form of 'Straight Line', a hyper-intense electronic R&B track. It's a superb song, blending the strongest elements of modern electronica and nu-R&B. Walker is currently touring and planning new releases throughout the year. We're bound to be talking about here more in 2019.
9.
Duckwrth
South LA rapper Duckwrth is the perfect example of the new school of hip-hop artists emerging from California. Having gained initial recognition for a collaborative project called The Kickdrums, the MC went solo. Since then he's released an LP and a mixtape. However, in winter of 2018, he released a new single 'Soprano'. The track marks a significant sonic evolution for the artist. It blends aspects of industrial hip-hop, nu-R&B and the lofty conceptual motifs that have made fellow Californian artists like Kendrick Lamar so popular. With a European tour under his belt, the MC seems set to expand his influence and fanbase. It could very well be a big year for the MC.
10.
PowPig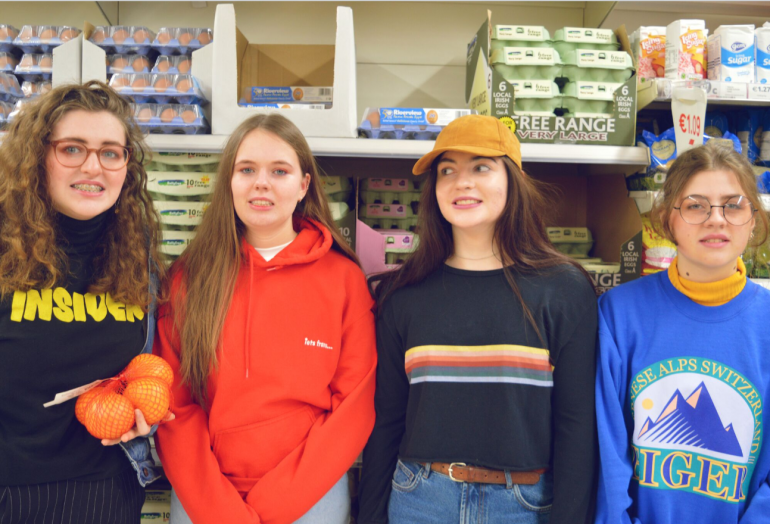 PowPig already caught the attention of much of the listening public in 2018. Their two EPs, Denture Adventure and Buzz Buzz both showcase vibrant and dynamic punk music. However, the group were limited largely by the fact that they were and are sitting their leaving certs, a time-consuming thing. We're very excited to see what they get up to once summer comes around. An exciting prospect for sure.
Related