New releases out today: Weyes Blood, Brockhampton, Dermot Kennedy, Anna Mieke & many more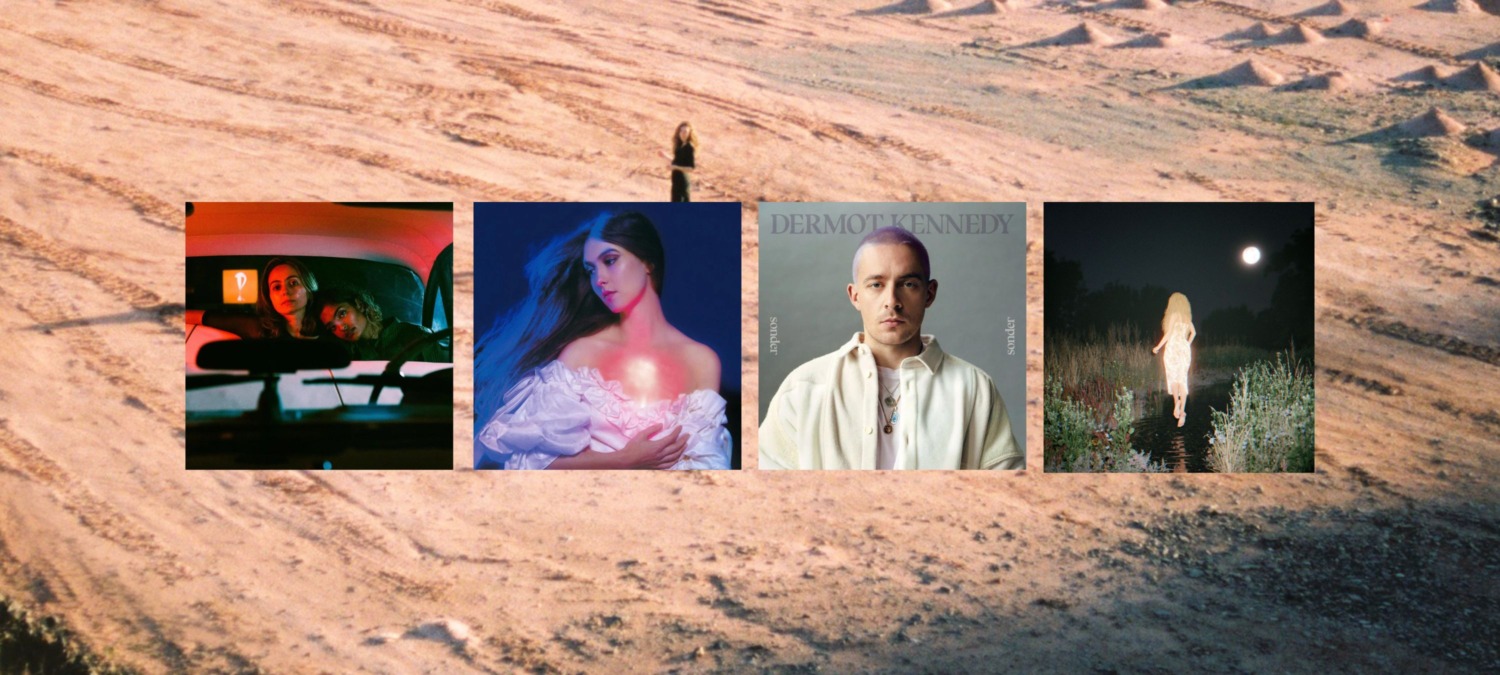 Here's a rundown of new releases on DSPs and physical releases in record shops this week.
---
New Albums
---
Brockhampton – TM / The Family
The hip-hop boy band released their final record The Family a day early and drop another parting gift TM today. 'RZA'
---
Weyes Blood – And in the Darkness, Hearts Aglow
LA-based artist Natalie Mering is on a lush and grand path for this latest record. 'God Turn Me Into A Flower'
---
Dermot Kennedy – Sonder
Rathcoole singer-songwriter releases his second record of singer-songwriter smash pop, after a little extension. 'Dreamer'
---
Anna Mieke – Theatre
Wicklow folk singer-songwriter's second album sounds like it's going to be a doozy based on previously released tracks 'Twin', 'Seraphim', 'Mannequin' and 'For A Time'.
---
Fousheé – softCORE
The New Jersey artist Fousheé arrived with 'Deep End' , a track used in Splice sample packs became noticed to producers and TikTok alike. This is her second album. 'Supernova'
---
Röyksopp – Profound Mysteries III
Third album in the trilogy of records from the Norwegian dance duo. Features Alison Goldfrapp, Pixx, Susanne Sundför.
---
Animal Collective – The Inspection
Soundtrack album for film about a young gay man who finds unexpected strength, camaraderie and support after he joins the Marines.
---
Rory Sweeney – Trash Catalogue Vol.1
Dublin producer drops the first half of a double album, featuring Curtisy, EMBY, E The Artist, Txpe_Eater and making use of field recordings, bass, breaks and ambient electronic music. 'Veggies (ft. Curtisy)' / Bandcamp
---
Video Blue – The Pull
The musical project of Dundalk native Jim O'Donoghue Martin releases a debut album, includes the single 'First Snow' featuring whenyoung's Aoife Power.
---
Bog Bodies – Reclaim the Ritual
Tipperary's Bog Bodies beat a bodhrán for a heavy folk song about access to clean water on 'The Regime'. The debut album has arrived this week with Celtic, 'Bog Rock' or 'Druid Rock' vibes. Bandcamp.
---
Neil Young & Crazy Horse – World Record
Young and his reliable band went into the studio with Rick Rubin for this one.
---
Busta Rhymes – THE FUSE IS LIT
Busta once ascribed to the end of the world theory that we were all going to die in 2001 at one time. On his first album The Coming fans were warned as Bus shouted out "There's only five years left!" Maybe, the title is a return to his countdown of the apocalypse.
---
Panda Bear & Sonic Boom – Reset (Songbook Instrumentals + Remixes)
Animal Collective's Panda Bear and Spacemen 3's Sonic Boom collaborative album on Domino is inspired by Sonic Boom's collection of '50s and '60s American doo-wop and rock-and-roll LPs. 'Go On'.
---
Caitlin Rose – CAZIMI
Nashville singer-songwriter trading in country and pop. 'Nobody's Sweetheart'
---
bis – Systems Music For Home Defence
Scottish trio's sixth studio album of alt-pop music. 'Lucky Night'
---
Kapil Seshasayee – Laal
One of those records where the cover draws you in. "The Glasgow-based musician 10-track full-length traverses hyper-pop, synth-pop and rock terrain," says Rolling Stone.
---
Trent Reznor & Atticus Ross – Bones and All
Bones and All is a 2022 coming-of-age romantic cannibal road film directed by Luca Guadagnino, with these lads on the soundtrack.
---
Saint Jude – Signal
South London songwriter who has debilitating tinnitus. His inaugural live performance onlyat Village Underground in September 2022, after working with his team to secure in-ear monitors that cause minimal aggravation to his condition. 'No Angels'
---
Nadine Khouri – Another Life
Second album by singer-songwriter Nadine Khouri. Recorded in London and Bristol with producer John Parish (PJ Harvey, Dry Cleaning) the album extends a collaborative partnership that began with Khouri's acclaimed 2017 debut The Salted Air.
---
Honey Dijon – Black Girl Magic
Chicago-born DJ and producer's new LP includes contributions from Eve, Channel Tres, Pabllo Vittar, Josh Caffe, Mike Dunn and more. 'Show Me Some Love'
---
Badlands – Call to Love
Swedish producer, composer and sound designer Catharina Jaunviksna who has featured here before. Throughout, analogue compositions thread new wave, warehouse dub, trip-hop, and disco influences into Badlands' distinctly unconventional electronic pop." 'I Want Blood' / Bandcamp
---
Malibu – Palaces of Pity
"A euphoric ambient (trance?) elegy to calm, sublimating delayed guitars and cello into balearic zoomer-bient bliss sequences that remind us of Orbital, Burial, Enya, " say Boomkat.
---
Acid Klaus – Step On My Travelator: The Imagined Career Trajectory of Superstar DJ & Dance-Pop Producer, Melvin Harris
The new collaborative solo project from songwriter-producer and Northern England artist Adrian Flanagan (The Moonlandingz, International Teachers of Pop, Eccentronic Research Council & lots more) , co-produced with his musical partner Dean Honer, released on Yard Act's label.
---
EP & 12″ Releases
---
The Cyclist – STP EP
Derry producer The Cyclist's new EP on Belfast-based Rudimentary Records, a four track collection featuring three originals from London-based Derry producer Andrew Morrison and a remix from fellow Derry native OR:LA. 'Serenity'.
---
Moving Still – Kalam Hub
New five-track release from the Irish Arabic producer you should know. Released on CWPT/Cooking With Palms Trax. Electro heat! Bandcamp.
---
Narolane, the Shannon label and collective made up of rappers and producers Denise Chaila, MuRli, and God Knows have released a four-track EP collection today called Walk. It features Ailbhe Reddy. More info.
---
Ocean Tisdall – Boys Don't Cry EP
Four track release from Irish alt-pop artist on Universal Music Ireland "touches on his vulnerability and confront eating disorders, mental health, toxic relationships, crying at parties, sexuality, and acceptance." Boys Don't Cry.
---
Carslbad – Future Yeehaw EP
American alt-pop artist based in Dublin has upcoming gigs in Whelan's Upstairs this Saturday and Other Voices Dingle. 'Lemon Pie'
---
Mansur Brown – NAQI vol. 2
Four tracks from the classically-trained guitarist who melds guitar licks with atmospheric beats. Bandcamp.
---
Mount Palomar – Brace For Impact EP
Belfast electronic producer's new EPs feature folk singer-songwriter Joshua Burnside. 'Simmer'
---
Movulango – Mirror In Man
25-year-old Belgian musician and producer shares new EP on Deewee. Bandcamp.
---
Alex Virgo – Lightspeed
New release on Jordan Nocturne's label. London producer explores acid-led neon adventures on 'Fantasy' and channels Cowley-esque synth sleaze on 'Harry's Freaking Out', before closing out with Ed Banger influenced 'Lightspeed'. Bandcamp.
---
Joshua Burnside – Late Afternoon In The Meadow (1887) EP
Speaking of Mr Burnside, Experimental folk songwriter and producer. Plays Ulster Hall on December 23rd.
---
Nine Raths – EP002
Ryan Burrowes and Adam Smith are exploring themes of contemporary Irish identity through their collaborative electronic Nine Raths moniker. Scouting what it means to be Irish through a modern lens, the pair have spent the last number of months roaming rural fields, ice-cold lakes and dense forests to collect a natural and diverse palette of sound with enough functionality to keep a crowd dancing; uniting the worlds of ancestry and history with the contemporary sounds of footwork, jungle, rave and power ambient. 'Thornhill'