I have been to eight different music festivals this year so far. Eurosonic, SXSW, Sonar, Forbidden Fruit, Body & Soul, Camden Crawl London and Dublin; and this weekend's EXIT Festival in Novi Sad in Serbia. That might sound like boasting but that's a lot of festivalling. Enough to be familiar with how most operate, what most offer and how they do it. Most music festivals have a pretty standard setup these days of course, whether city or field, tents and big stages, rain or shine, you know what to expect generally.  It can take a lot for a festival to really surprise you after a solid run of them so you really appreciate when they do, which is exactly what EXIT Festival in Serbia did this weekend.
EXIT was born ten years ago in the town of Novi Sad on the banks of the Danube river, one hour from Belgrade as an 100-day long student protest against the then president Slobodan Milošević in 2000. It has gradually cast off its political origins and has become a four-day music festival but not exactly a plain old ordinary one. For the festival is set in a 17th century Petrovaradin fortress which overlooks Novi Sad across the Danube and features unique terrain, taking in walled courtyards, moat-valleys, huge amphitheatres, rickety wooden bridges, cobbled streets, tunnels, bizarre alcoves and stunning vistas. It's surrounded by the city's old quarter which heaves with local men grilling corn on the cob, selling glowsticks, illuminated devil horns and refrigerated beer while local girls peddle the strong spirit drink rakija served in test tubes with honey or plum flavours.


As well as the setting of the festival, the setup is near-perfect for those travelling from overseas who want to make the most of a short four day trip. A typical festival day sees most stages kick off close to 9pm until the very early hours of the morning of 7 or 8am. That means there is plenty of time to get to know the area if you want to. Aoife and I spent the late afternoons exploring Novi Sad after a late morning catching up on sleep. The local Serbian food is a mix of Greek and Balkan cuisines, cheeses and salads with good sunny-assisted ingredients and we sampled local meat and cheese platters, breaded pancakes, local freshwater fish, lamb stews, meat and potatoes. When we weren't eating, we were probably drinking a cheap local beer in one of the city's many outdoor cafés on or near the main square or relaxing on the busy city beach or the park taking in the mellow warm Serbian sun.

But it's the festival we're really here for and the first thing these Irish ears notice is Novi Sad doesn't have any noise level restrictions. That's something that the local radio DJ on his Radio AS FM station's stage is taking full advantage of – playing an all-inclusive mix of pop hits from House Of Pain's 'Jump Around' to Faithless' 'Insomnia'. It's the first random dance party of four days filled with them. Gossip meanwhile struggle to get the party started on the main stage (full set). Everyone knows Beth Ditto is an awesome magnetising frontwoman by now but the band sound flat and don't have the tunes to back up a main stage takeover. It's been a long time since that first initial wave of the success they band experienced on the back of 'Standing In The Way Of Control' and this year's A Joyful Noise wasn't exactly received with fervour. I wish Ditto would make an electronic R&B album she suggested she might do with that Simian Mobile Disco-produced EP last year. She'll later do an impressive duet with Simon Le Bon of Duran Duran during their set who in this context, sound like the most Eastern European-leaning British pop group ever – something about Le Bon's timbre and the band's new Romantic melodies sound suited to this area.
The Dance Arena at EXIT is surely the most impressive one of its kind at any festival. Ascend some stairs at the back of the main stage and you'll be greeted with a surprising panorama – 25,000 people dancing in a valley which is backed by a raised natural amphitheatre at the same level as the stage, surrounded by platforms holding hundreds of people going nuts to music below them. It's a stunning sight, like the terrain in a level of Halo – and is the real heart of this festival, where thousands draw up the sun at 4.30am with their frazzled yet relentless energy. This video will give you some idea.
The only drawback to the dance lineup over the four days is that it's filled with a lot of monochrome polymorphic house and techno acts indistinguisable from each other, save for the on-stage theatrics of some spark-wielding scantily clad ladies, the massive light-covered Tron-esque robots or the dude breathing fire. Meanwhile, late night at the main stage is dominated by dubstep and drum and bass acts like Subfocus, Netsky, Mistajam and Borgore whose stadium histrionics are suited to such large spaces but don't appeal to me.

Totally Enormous Extinct Dinosaurs is the first major highlight of the weekend's dance festivities. Orlando Higginbottom is wearing stegosaurus scales and delivers a set of his own songs from just released excellent debut album Trouble. Flanked by his own frenetic dancers and singing live (maybe), the TEED set is one of the most tightly constructed of the weekend, dipped in techno and house rhythms yet glowing with '90s dance vocals, big drops and his own TEED synth sound. 'American Dream Part 2' with its big rippling rapid synth was a highpoint of the set.
A great festival is made up of moments like these and a big one happens when Azari & III drop 'Reckless With Your Love' , the elegant classic dance music highlight of the band's debut LP, a song that continues to give, especially live when singers Starving Yet Full (yes) and Fritz Helder give the song a choreographed dance routine.
A wander around the west part of the festival takes you around the fortress where our random encounters start with stumbling onto a Zumba crew dancing to Balkan music. Upon leaving the reggae stage, we enter a door in the tunnel and go down a long corridor to discover a heavy-strobe club space playing obnoxiously loud music. We stay for a drink and dance in weird pause-frame strobe motion stopping only to attempt to talk to someone staying at our hotel before giving up and dancing on the platform some more. Later, at the Suba stage we watch a collection of degenerates play shouty Atari Teenage Riot-style electro punk, only to discover that two hours later they are still at it. The only difference is the sun has come up and the two dancers who were up on the table are now asleep on it, while the singing talisman rages on. Bizarre.
That random band play for almost as long as Guns 'n' Roses who in contrast to recent Irish gigs, arrive on time and played for a whole three hours. Axl was still giving it socks as we were queueing for our last chance to go down the zip line which runs from the top of a hill in the fortress across the silent disco and a portion of the festival site, offering a 15 second long panoramic view of the site while you zip down a line suspended from a hook. Great fun.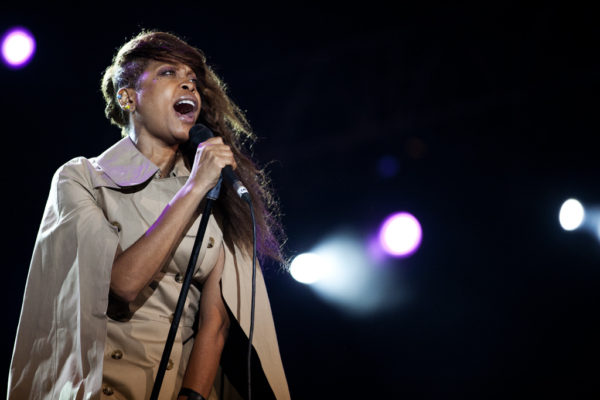 Erykah Badu is another big main stage draw but unlike her Dublin performance back in 2008, this set was loose with plenty of band jams, a bit of call and response, an actual flute solo and her usual impressive dabs of R&B cosmic soul. "We can go all night," she says steely-eyed at one point, and EXIT Festival really is a festival where that is a distinct reality.
Some mistimings, distractions, 4am set times and general festival merriment means I miss the likes of Addison Groove, Skream, Lone, Pariah and Jimmy Edgar on the Happy Novi Sad stage but I catch some of Belfast man's Space Dimension Controller's techno heavy DJ set at the R&S Records showcase and what turned out to be a DJ set not a live set as advertised from Teengirl Fantasy. Especially annoying considering the duo played Dublin two days later but it mattered little ultimately.
Back at the dance arena, Australia's Knife Party, formed of the founding members of Pendulum are laying on a barrage of electro-tinged drops. I find the rise of Pendulum pretty fascinating. Here's a band who started out as a drum and bass DJ duo and appeared to send its various members around the world at the same time to DJ and collect the cash. It was a smart move but even smarter was when they transformed into a full live band, perfect for festivals. Well now, the original duo seem bored of that, have put Pendulum on live hiatus and have formed Knife Party, which on evidence of their EXIT Festival performance (which only featured one guy possibly due to illness), appear to be keeping up with the zeitgeist. The set consisted of twisted electro, the bombastic drum and bass that the Pendulum are known for, big dumb vocal samples, aggressive dubstep womps and hi NRG dance. It all felt a little too calculated towards crowd-pleasing and staying relevant.

On the surface, Buraka Som Sistema may be facing the same problem of relevancy. Their particular brand of global dance music with a vein of kuduro – Angolan dance music which peaked in music press interest (if that's a barometer for something) a couple of years ago but BSS have brought the party and their live show is fuelled by the energy of their three MCs and two live drummers with the female MC Pongolove displaying the most interesting tones of the trio. A real booty-shaking party set with actual bootyshaking featured.
Our last hour of the Sunday night is spent where it should be, watching the sun come up at the dance arena but not before we've had our final strange encounter. Along the terrace of the fortress, we realise after our 5am Cuba Libre (yes, the bars don't shut at 10pm) that there are a row of artist studios beside the Loud and Queer stage. We stumble into one where a painter called Slobodan offers us schnapps and shows us his artwork. It's just another example of EXIT's surprises, after four days we were still discovering new areas and people (shout out to the taxi driver who serenaded us with an Elvis song and the guy who lost one of his shoes on the dance stage's big steel stairs so threw the other away and walked home barefoot).
From artist studios to zip lines, EXIT succeeds in doing what only great festivals can. Personalising the unfamiliar, facilitating serendipitous meetings, offering a varied musical experience in a thoroughly unique setting, an inviting atmosphere, cheap beverages (beers were the equivalent of €1.65 each) and guaranteed glorious 30 degree weather. Because ultimately as an Irish person, it will always come back to the weather…
See a full EXIT gallery on page 2.
Related