2017 was my third visit to Barcelona's Primavera Sound festival and my first since 2011. What has changed in that time is an increase of punters (around 35,000 each night) but also an expanded festival site at Parc del Forum. That meant more room for dance music and more room for the larger stages. And more, room for surprises.
2017's lineup was also one of the best in a long time. Sure, Frank Ocean cancelled his headline set with two weeks to go but the addition of surprise sets announced on the day were a new thing which hopefully the organisers will commit to in 2018. It meant that for many the first surprise was Arcade Fire playing a gig on the festival's first night, two days before they were due on stage. Haim played a late-night set on the last night and Mogwai debuted their new album in full under the Barcelona evening sun.
The city is a great setting for a festival getaway, hang out on the beach day or night at Barceloneta, eat and drink in the Gothic Quarter or Gracia, solicit late-night cans from the abundant hawking men on the streets, bump into friends late into the night while wandering. Primavera Sound's late starting time (for most about 7pm or 8pm) and late end time (6am is not uncommon) means there's always time to explore the city in good weather before the music starts.
That doesn't mean that you don't miss things though. Aldous Harding, Glass Animals, Joy Orbison, Weyes Blood and Badbadnotgood were not seen, and I decided to give Arcade Fire a miss in favour of seeing something else (and was rewarded by John Talabot's disco set). Ditto: Sinkane, Skepta and Grace Jones. Sets from the xx, Angel Olsen and King Krule didn't do it for me despite wanting them to but there was plenty to love. Primavera Sound pulls you in so many directions that sometimes you just have to not focus too much on the timetable and go with the flow. That's easier to do in the Catalan city atmosphere than a soggy field in Ireland. I'd definitely come back for a fourth visit.
Here are my highlight sets of the festival.
---
There's no way that such subtle sweet jams should work on the second biggest stage on the festival, , but that's Mac Demarco for you. The Canadian has developed as a cult curio personality, an indie-kid weirdo but as his latest album This Old Dog (fast becoming one of my favourites of the year) has shown, his songs seep into your skin. At Primavera, there was a big crowd ready to lap up both his tunes and his vibe. When the camera panned over the stage to reveal his naked drummer on the drum stool, it was clear it was going to be one of those kinds of sets. While the stage antics got increasingly more attention as Demarco stripped down to his underpants and singed his butt and underarm hair while standing on a guitar amp, the tunes never faltered from some sweet vibes (other than a closing guitar solo). Don't underestimate how hard it is to write delicate songs this good, the stage show with added "Whitney crowd surf experience" and goofball antics only added to the sense of occasion. As did, Demarco ending the night crowdsurfing sans music stage right after his set.
2.
John Talabot Disco set
I decided to give Arcade Fire a miss this time to go see something different. The Catalan man John Talabot has always had a close association to Primavera as they asked him to debut his first ever live show at the festival so he always does something at it. This time around, it was two shows, one with Axel Boman as Talaboman and one DJ set billed as a disco set (after a great Young Marco set) which ended up being a set that featured crowdpleasing and disco-tinged music from classics like 'Spacer' to Aphex Twin 'Windowlicker' edit, Red Dragon Band's 'Let Me Be Your Radio' to his own Teengirl Fantasy 'Cheaters' remix and my tune discovery of the festival – Akiyo's Deboule. An edit of the Carribean Zouk tune from 1996 was played in the Talaboman set on the first night and immediately wired itself into my brain. Watch out for that (and let me know if you see one going). Talabot's disco set was filled with the one thing that many modern DJs forget to pack on their USBS – fun.
---
Flying Lotus reaffirmed my opinion of him as a visionary producer with his live cube A/V set on the Ray Bans stage on Friday night. At 3am, the combination of Strangeloop and Timeboy's mindbending visuals and Fly Lo's mind-altering music productions hit with force and bass so hard that in the middle of the crowd, near the front, the bass made the hair on the top of my head vibrate. It was that good. Musically, we had some of the new stuff, like the Kuso theme (the reviews have said it's garbage), his Freddie Mercury remix, his Twin Peaks rework, his To Pimp A Butterfly production, his Kendrick feature 'Never Catch Me', a Captain Murphy joint and his Los Angeles material. It was a reminder of how great a Fly Lo set can be.
---
This took me by surprise. 22 A Million is a hard album to love and it didn't really impact my listening habits last year very much. It was easier to admire and harder to love. But fair play to Justin and his band who have managed to translate this obfuscated object of coded language into a main stage extravaganza that pitched these songs with a larger stature, accompanied by superb sound and a stage show that featured the album's hieroglyphics in cascading form. The album's second half – songs like '666' and the Springsteen-esque '8' were late show highlights and four songs from 2011's self-titled album. He might have spent much of the gig with giant headphones and a baseball cap on behind a bank of gear but a solo a capella version of 'Skinny Love' as encore nodded to the the journey Vernon has been on since 2008. It's a significant one.
---
The classiest stage show of the weekend went to Solange Knowles. A simple circle backdrop bathed in red with blue lights on the band and singers pitched things minimally. Translating a weighty but delicately produced album such as A Seat At The Table is a tough thing to do but Solange kept things focused and wisely brought in the energetic 'Some Things Never Seem to Fucking Work', 'T.O.N.Y' (from her 2008 Sol-Angel and the Hadley Dreams album) and career highlight jam 'Losing You'. Occasional choreographed moves benefitted the show in subtle ways too. It was more a swaying side-to-side experience but it suited her.
---
There was a run of abrasive shows on the opening night of Primavera Sound in 2017 that featured sets from Slayer, Converge, Death Grips (always excellent) and Aphex Twin. A Richard D James show is like no other and he really took advantage of playing the biggest stage at the festival to deliver an uncompromising two hour set filled with diversions into ten minutes of industrial white noise, acid techno, ambient noise, gyrating IDM , jungle breakbeats and electro weirdness. There wasn't much to recognise unless you were an uber-Aphex nerd but he did play 'Roy Of The Ravers' at one point and one tune that sounded like MIA mashed up, smashed into a reggaeton beat and spat out. Visually, the show was crammed with small screens working in unison, and lights and lasers that extended beyond the festival site. His trick of using the faces in the crowd to project AFX imagery and faces makes the audience an integral part of the show, playing on the discomfort of lingering on someone in the front row's self-conscious face for far too long to create some truly odd art. In fact, it was so intense I couldn't last the whole show. How many artists can you say that about? No-one delivers a disorientating experience quite like Aphex Twin.
---
At 4:30am on the first night, Belfast duo Bicep played their live show which served as a slighty beefier version of their live sets naturally all focused on their own material and delivered with the precision and percussive panache that have made Andy Ferguson and Matt McBriar house stalwarts. A run of songs including 'Just' , 'Higher Level' , 'In Yer Face' , 'Dahlia' sent us home with grins on night one, eager for more from evening two.
---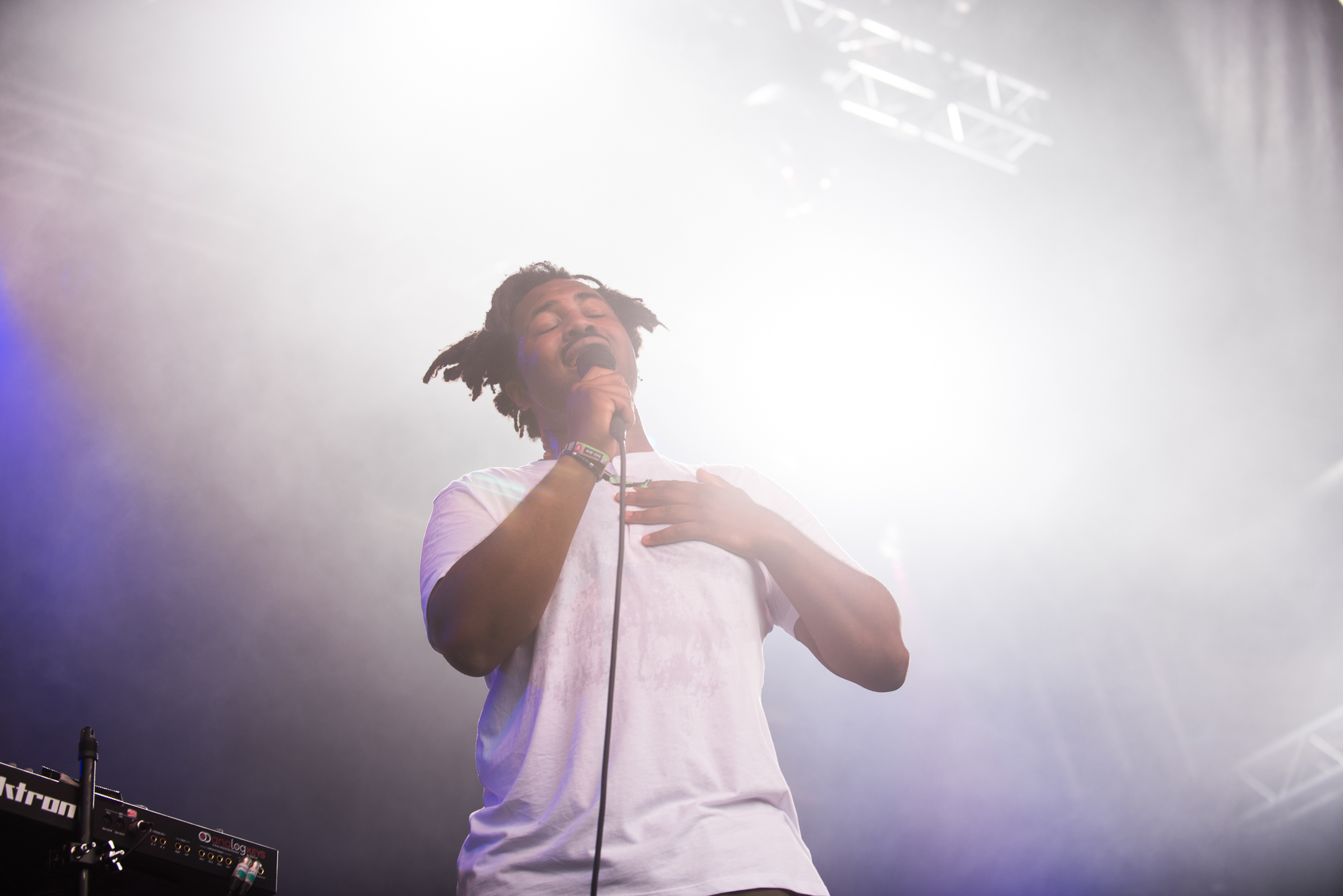 Sampha's piano torch songs don't feel like a natural fit for a large festival stage but the dude's been preparing. With three band members helping him build the beats, Sampha Sisay brought some dynamic energy to his set. There was a circle of a drum-off at one point and songs like 'Blood On Me', his Drake-feature '4422' and 'Reverse Faults' stood out until he was left to deliver the heartbreaking ode to his mother – '(No One Knows Me) Like the Piano'.
---
---

You know the drill by now. We Are the Champions. Two Best Friends. Fists and chains in the air. A Blockbuster Night. El-P and Killer Mike's on-stage camaraderie isn't even punctured or affected when the entire soundsystem goes dead for 10 minutes, as they mug to each other and run on the spot. A RTJ show is one of the best in rap and it hasn't dissipated as the size of the stage has increased.
---
---

What encapsulates the differentiation between Primavera and many other festivals is that the closing set of the festival on the only large stage left open went to !!! (Chk Chk Chk). The band encapsulate the festival's early beginnings as a punk-funk rock band into their current guise as a strutting electronic disco act. Primavera know all you need to do is give !!! the stage and they'll slay and that's what they do close to 5am bolstered by the presence of Wnglish vocalist Lea Lea on co-vocals and ass-shaking along with Nic Offer upfront. With their seventh album Shake The Shudder just out, much of the set was drawn from that but two personal favourites 'Freedom 15' and 'Syld' closed out the show.
Related