It's hard to think of any other brand in music project that does things at the scale and to the attention to detail that Red Bull do things for their long-running Red Bull Music Academy. For 20 years now, the brand has been operating one of the most sought-after music courses / scholarships / summer camp / leg up for budding producers, musicians and DJs.
Experience a few days at the Academy and it's easy to see why thousands worldwide apply via RBMA's notoriously existential / philosophical application form. This year's edition, RBMA's 20th year, returned to the city where it started in 1997, Berlin, to occupy the impressive Funkhaus buildings, a former GDR radio broadcasting centre on the banks of the Spree. Its Bauhaus architecture is now home to regular concerts (PEOPLE took place here this summer) and studio spaces used by residents like Nils Frahm, who made his All Melody album here).

For five weeks from September to October, the Red Bull Music Academy takes over one wing of Funkhaus, dressing up its interior with an art exhibition, designer furniture, plants and giving the space a lick of paint. When I last visited an Academy in New York in 2013, the brand left behind a recording studio in Chelsea. In Berlin, a lot of the interior touches will be left behind once it's all packed up.
All of this in the short-term is for the benefit of 61 participants from 37 countries around the world, who are split into two terms for two weeks at a time and given access to eight Funkhaus studios where they are encouraged to collaborate, learn and make music free of constraints. A jam room and endless banks of equipment from all types of makers are on hand for inspiration.

There is no end product in mind, only the space for art to be created. It's a particularly laudable setup. Red Bull have proven themselves as a company who operate with restraint in terms of their branding on-site at RBMA. It's a patronage, Red Bull invest in the musicians and are not merely a sponsor.
Studio mentors like Dorian Concept, Mike Banks (Underground Resistance), Angel Deradoorian, Marco Passarani (Tiger & Woods) are on hand to offer advice. Accommodation, excellent catering and transport is provided. This year's participants featured two Irish artists: Jack Colleran (formerly Mmoths) and Dan McIntyre (AE MAK, Lullahush). About two thousand Irish entrants applied for RBMA this year.
At night, a series of live gigs and events take place, sometimes with the students involvement. This year's programme, like most years leans on electronic music of all stripes with Dixon, Marie Davidson, OneOhtrix Point Never, Tony Allen, Jeff Mills and Jlin performing and themes like drone, bass music, techno, ambient, audio-visual, cult Japanese video games and synth futurism used as starting points.
During the daytime, guest lecturers visit to dispense advice to the participants and this year's visitors include well-known names like Janelle Monae, Pusha T, Nina Kraviz, Amadou & Miriam, Christian Rich, and Damo Suzuki among backroom players who are just as interesting and informative.
On the days I visited RBMA, the guests were one of the godfathers of Detroit techno Kevin Saunderson and Grammy Award-winning mastering engineer Mandy Parnell.
Saunderson gave an account of his musicmaking and teenage years as one of the Belleville Three along with Juan Atkins and Derrick May. Saunderson brought techno to the mainstream and is known as the elevator of the genre and it was fascinating to hear him talk about the development and crossover success of Inner City, how he essentially made a new form of dance remix and how the bassline for a track he made as Reese went onto to be hugely influential on jungle and drum & bass music.
"You know when I was creating that bass, I was thinking dark, deep, I was thinking Paradise Garage. And I created it on a CZ-1000. So I just got into the parameters which I always enjoyed doing because sometimes when you're creating sounds, it can inspire you to play a certain way or you hear something that inspires you to play something on top of that. And you can also change your direction, I've played lines that were just okay sounding, but all of a sudden, I get into parameters and I've morphed that and changed it in a way where all of a sudden it's amazing, the line, where you wouldn't think I would get that out of it. Experimentation, just experimentation with no rules."

Most interesting of the two, was Mandy Parnell, who has worked with Aphex Twin, Bjork and The xx among many others. The English mastering engineer explained the mastering process by calling it "an objective set of ears," and said she sees her role as a mastering engineer "to connect with the emotion in the music" she is asked to master. She shared a lot of nuggets of information that got myself and the attending participants thinking about music in the 21st century.
Parnell won a Grammy for her mastering work on Aphex Twin's Syro album but said she wasn't overtly familiar with Richard D James work (and had never seen any of his videos). To her, he was a polite guy who came to The Exchange mastering studio in London to work on his tracks.
She recounted her time mastering Sigur Ros' () album and the pressure that the band and herself felt to get it right.
"When they came to The Exchange to work with me on it, everyone was very, very tense. It was a big album. They knew it was going to be a big album. We had the record company from the UK, the record company from America, managers, producer, the whole band. It was all from reel-to-reel tape. The tape was not particularly stable. So I was having to do a lot of stuff by ear.
And every change, if I changed one EQ, one thing, because they were so worried about it, and they knew we had to get it right, I would have to rewind back to the beginning of the track and we'd have to listen to the whole track again. And you know how long the tracks are. It was a very, very intense session."
Parnell is perhaps most well-known for her work with Björk on her album Biophilia, which she was drafted in to master after Björk wasn't happy with what she was getting back. Parnell has worked with the artist since and says that Björk is very hands-on and descriptive in the studio offering suggestions like "imagine your ancestors at a rave around a campfire, dancing," for Parnell to interpret.
As practical advice, Parnell says that the prevalence of Bluetooth speakers and single portable speakers has meant that mono is now back by accident as opposed to design.
"I've had one of the top mix engineers tracks in, sounded incredible in my room, and the A&R guy in America said it sounds like a demo. I called him up, "What are you playing it on?" He told me. I went out and bought one that weekend, brought it back, listened to it and realised, well, yes, it's a mono system. So, we're back to mono. So, really thinking about that from your point of view is checking your mixes in mono. That's my mantra over the past couple of years. So, really the mono button is a beak, use it constantly when you're mixing."
If the return of mono in 2018 wasn't frightening enough, Parnell also sees issues in the digital space. One could imagine that digital streaming and distribution services who all take the same source file would conform to a digital standard but alas, they all use different codecs and techniques, which can produce varying results in both volume and quality, making a mastering engineer's job a multi-platform nightmare. Did you know for example that – YouTube has two different ingest centres using different codecs and they both sound different?
"In theory, with all the different platforms they're doing like Spotify, YouTube, iTunes, with the loudness normalisation, the issue that we have in the industry is the odd tendency to work to a different figure. We've got, I don't know, anywhere between six to eight dBs of difference across these platforms. Well, that's really hard. I mean, I hear .1 of a dB change in level, let alone eight dBs, six dBs."
My brief experience at the Academy in Berlin culminated in a 4D surround sound performance by Oneohtrix Point Never in Funkhaus' Saal 1, one of the biggest recording rooms in the world, with its own foundations in the middle of the Block B.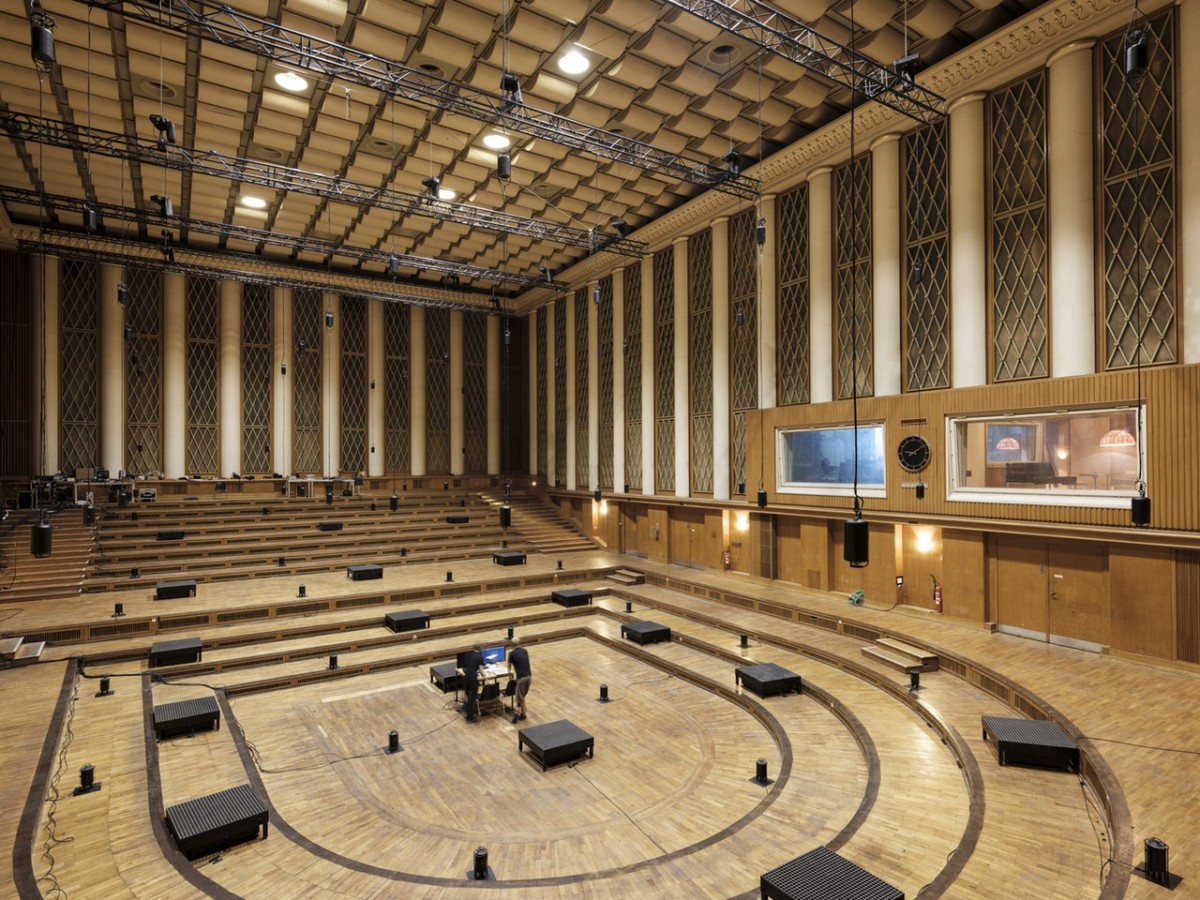 The show, Oneohtrix Point Never's Myriad A/V show, a "dystopian digital opera" was a fine example of the kind of scope and ambition always at play at RBMA. Featuring 102 omnidirectional speakers hanging from the ceiling and embedded in the floor known as the Symphonic Sound System and built by Monom (who also demonstrated the system's surround sound capabilities), it was a unique, intense yet gratifying experience using speakers built by 4DSOUND, to add a spatial directional element to the performance.
Oneohtrix Point Never's music is discombobulating and detailed at the best of times but coupled with an extra physical element and his trademark eerie and formless visuals, Myriad offered fresh forms of music presentation through performance and collaboration, succinctly encapsulating the Red Bull Music Academy as a whole.